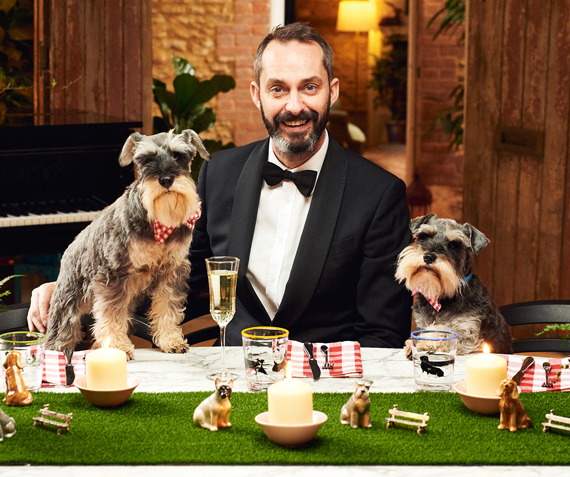 For the first time in its 14-year history, contestants on TV's 'Couples Come Dine With Me' have been served fresh DOG food.
Having been asked to wear black-tie, the unsuspecting diners on today's episode were given dog masks and collars and sat down to a 'dog's dinner' dished-up in dog bowls.
The three-course meal was an experience for the senses and comprised handcrafted, fresh recipes that are suitable for both humans and dogs. Dog food business owner Dylan Watkins wanted to make the point that dog food doesn't have to be 'a mundane eating experience with dry kibble day-in, day-out'.
Dylan says he founded the fresh raw dog food company Poppy's Picnic to provide natural, additive-free meals for his beloved miniature schnauzer, Poppy. He said he used his 'Come Dine With Me' appearance to spread the word that 'fresh is best'!
For the show he teamed up with Emma Rutherford, a functional canine dietary consultant, whom he met at a dog show, to appear on the programme and showcase that, just like humans, dogs should eat fresh food, too.

MAD OPPORTUNITY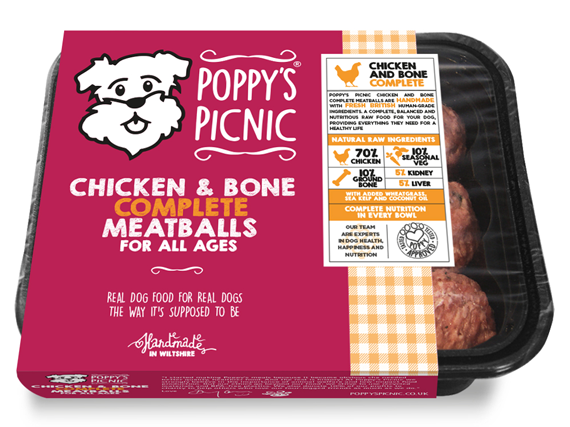 Dylan explained: "When a friend sent me the advert for the new series I knew it would be an excellent platform to encourage more dog owners to feed fresh, healthy meals. My partner, Michael, was mortified at the thought of appearing on TV, so when Emma volunteered to join me, I seized this mad opportunity."
Fellow contestant Kelly Houghton said: "It's definitely not what I was expecting from a sophisticated dinner party. However, having spent the week with Dylan and experiencing his love, passion and dedication to dogs first hand, I was sold. We are now the happy owners of our own miniature schnauzer and, having previously known nothing about dog food, there was no way I was going to be feeding her anything else."
Dylan concluded: "My heart pounds every time I think about the filming. I needn't have worried as all was forgiven by my fellow contestants as both couples now feed their dogs fresh, raw food. By appearing on a nationally loved TV show such as 'Come Dine With Me', I knew that the diets and health of thousands of dogs could be improved."
This is not Dylan's first foray into television; the company had four offers when it was featured on BBC2's 'Dragons' Den'.
The Bristol-based episode of 'Couples Come Dine With Me' airs at 5pm today (February 12.)
The Come Dine With Me Menu
A Dog's Dinner
Starter
'Give a dog a Bone' Broth
Golden bone broth made with chicken bones, fresh turmeric, shitake mushrooms,
garlic and a hit of lime
And (for humans only) a big French seeded baguette!
~
Main
Canine Koftas with Golden 'Retriever' Chips and 'Walk in the park' Tabouli
Minced lamb with cumin seeds
Sweet Potato Chilli Chips
Tabouli with zesty lemon. KAPOW!
~
Dessert
Coconut Ice Cream Treat with 'Who's a clever Poppy' cookie
Coconut ice with woof cream and berries
A Lavender and Poppy seed cookie