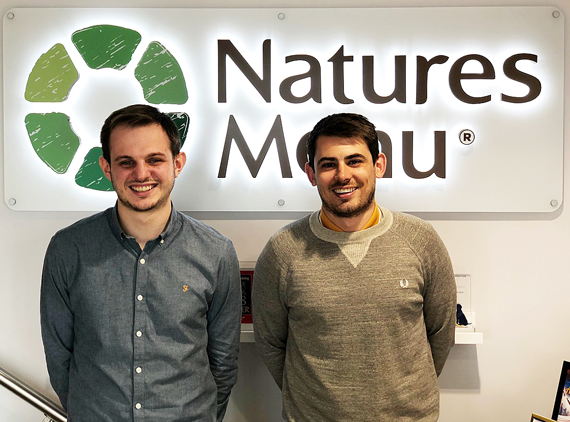 L-R: Tom Wood and Jack Abbott.
Raw and natural pet food business Natures Menu has further strengthened its marketing team with the appointment of Jack Abbott as brand manager and Tom Wood as digital marketing manager.
Jack has extensive brand management experience, having previously worked for Kettle Foods and Challs International, and will be responsible for driving continued growth of the Natures Menu portfolio, with specific responsibility for managing the development of the True Instinct brand.
Jack is keen to transfer his skills acquired in the grocery sector and bring them to bear within the pet food market, working across the full marketing mix to further expand the consumer appeal of the Natures Menu raw and natural proposition.
Tom joins the market leaders in raw feeding from his former post at IT Governance Publishing, where he worked as sales and digital marketing executive. Prior to that he worked as a copywriter for Further Marketing Expert Labels. He holds a BA Journalism degree from Sheffield Hallam University.

RAPID GROWTH
As part of his new role, Tom will be responsible for all digital aspects of Natures Menu's marketing campaigns. This will include creating content for the brand's email campaigns, writing product descriptions for the website and liaising with Natures Menu's external agencies.
Managing director Craig Taylor said: "We're delighted to welcome both Jack and Tom to the business as part of our ongoing strategy to further drive our rapid growth within the raw and natural pet food sector. These appointments cement our commitment to the future development of Natures Menu, greatly enhancing our already talented team.
"It comes at a very exciting time for us, having added another string of awards to our bow after being named Manufacturer of the Year at the 2018 Pet Industry Awards, and being ranked in the top 100 of The Sunday Times HSBC International Track 200 of midmarket private companies with the fastest-growing international sales."
Natures Menu specialises in raw dog and cat food made with fully-traceable meats and fish, blended vegetables, fruits and carbohydrates. It uses British suppliers and ethical product sources wherever possible.