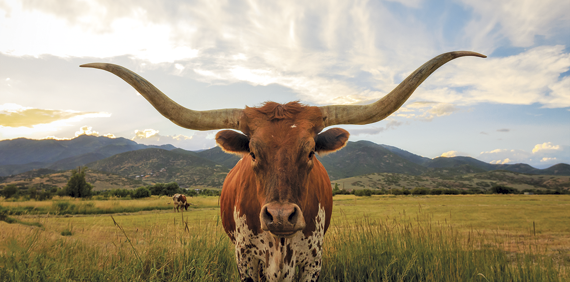 A cattle drive event in Colorado Springs, USA, went awry when a longhorn made a break for freedom.
Pedestrians scurried out of harm's way during the escape as the longhorn charged across a street and through an open door at the Plaza of the Rockies business centre. Fast-thinking staff quickly shut the door to contain the animal, then one of the cowboys driving the cattle rode his horse into the lobby, lassoed the cow and led it back to the group.
Amber Keller, who filmed the scene from behind a metal bench and works on the ground floor of the building, told the Associated Press that she was not scared, but 'everybody was a little concerned and shook up'.
There were no reports of injuries.
The Ride for the Brand cattle drive is part of the Ride the Brand Ranch Rodeo, held at the Norris Penrose Events Centre.