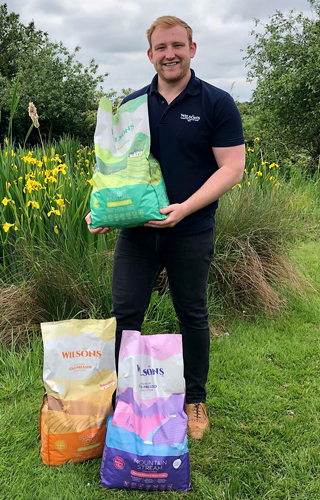 Dan Griffin has joined Perthshire-based Wilsons Pet Food as head of sales.
In the short time Dan has been with Wilsons, he has already established 40 new stockists nationwide for the company's growing range of cold press dry food for dogs. He will also be helping to promote a range of new products, to be launched in the coming months.
Having grown up with dogs on a family farm just outside Stamford, Lincolnshire, Dan already had a passion for the pet market. He has a background in working for start-up businesses, taking new products to market and has worked in the food industry and the commercial side of FMCG, where he delivered products into both independent shops and large retail chains.
His new role at Wilsons will involve establishing the commercial and sales strategy and building relationships with existing and new retailers, with a focus on independent stores. He will be working alongside Craig Wallace, the managing director of Wilsons Pet Food, to grow and expand the business, while increasing brand awareness.

NO ONLINE DISCOUNTING
Wilsons has made supporting the independent retailer its priority by offering free samples and point-of-sale material, by creating boosted posts online to support new retailers and by not discounting online.
Dan said: "I am extremely excited about my new role at Wilsons Pet Food. I have a passion for the brand and their expanding range of products. It is great to be promoting healthy pet food, which is British made and manufactured by a longstanding family-owned business with an amazing heritage.
"My aim is to roll out the cold press food and the new ranges to stores right across the UK. I will also be building relationships with breeders and dog trainers to help support small businesses and spread the awareness of the benefits of feeding Wilsons Pet Food."