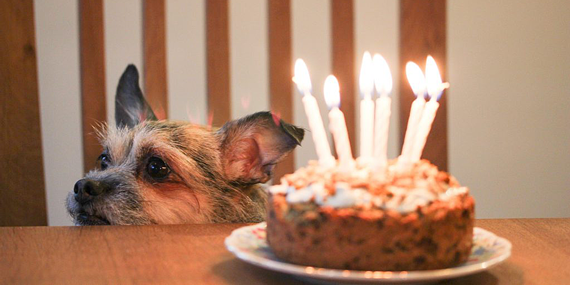 Pet treat manufacturer The Innocent Pet has launched the UK's first luxury birthday cake mix for dogs.
Founder Chloe Heaton said: "Every time we have a birthday in our family, our lurcher, Bongo – the inspiration behind our business, always manages to steal a piece of the cake.  We thought it was about time we made him a cake of his own…but one that contained meat."
Mum of two, Chloe, who runs the business with her husband, Justin, at their factory in Wetherby, Yorkshire, said: "It is easy to make – simply add eggs and water to the mix, which contains air-dried British duck and a grain-free flour and fruit blend. The mix can be turned into a large birthday cake or several cupcakes in less than half an hour – bakers can have their own great birthday bark off and decorate their bakes with an array of toppings such as cream cheese, peanut butter and treats. It is so simple and fun – even children can enjoy getting involved."
CELEBRATE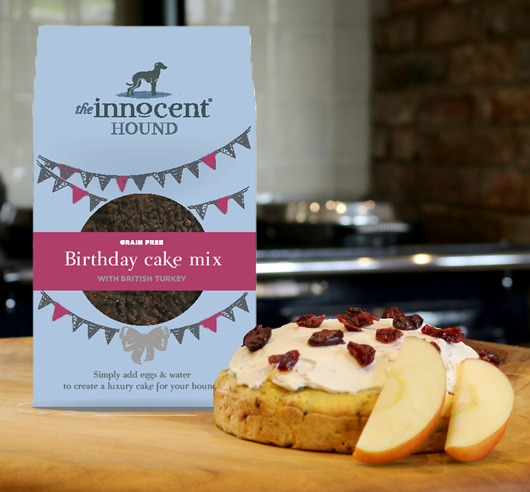 The kit consists of two sachets: one with air-dried British duck and herb pieces and the second sachet contains grain-free flours, gluten-free baking powder and a blend of cranberry, apple and nettle.
Chloe said: "With no added sugar or grains, not only do dogs thoroughly enjoy this recipe, but it is a healthy alternative to other birthday cakes. You could say that dogs really can have their cake and eat it – especially because they have the equivalent of seven birthdays each year!"
A recent survey showed that 75% of dog owners celebrate their dog's birthday.
The Innocent Pet is inviting customers to share their doggy birthday cake pictures on social media using #birthdaybarkoff.
As well as the Birthday Cake Mix, which has an RRP of £10, The Innocent Pet produces a range of air-dried British meat treats and food for dogs and cats and also caters for small animals.