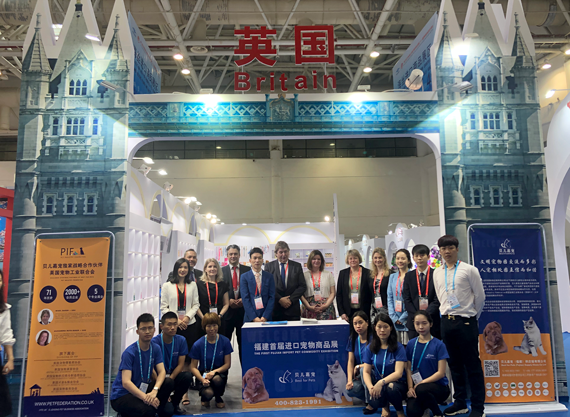 Three Pet Industry Federation member companies visited China in May as part of a trade mission to launch their products to the Chinese market, in a trip hosted by PIF and its Chinese export partner, Best for Pets Supply Chain Co.
Hownd, Broadreach Nature and Prins Petfoods joined the trade mission, which centred on the 21st Century Maritime Silk Road Expo in Fuzhou, Fujian Province. Their products were on display at the show, along with those from Natures Menu, the Big Biscuit Company and Woof & Brew, who were unable to join the trip but keen to be included.
The Expo took place over five days, attracting both public and trade, with estimates of 300,000 visitors attending over the course of the event.
The visit attracted a great deal of media interest in the UK visitors and their products, with members taking part in numerous media interviews at the event.
Best for Pets Supply Chain Co. had also secured visits to the trade stand from the provincial mayor and other local dignitaries, which were complemented by evening banquets to enable networking between the UK companies and local officials.
The successful trip also included external visits to the free trade zones in Fuzhou and on the island of Pintan, to enable UK companies to gain a greater understanding of how their products are received into China, clear customs and are then distributed to consumers.

GOVERNMENT CONTACTS
Anne Wood, MD of Broadreach Nature said: "Being able to see first-hand the Silk Maritime event was fantastic, as were the opportunities provided by the overwhelming media interest from television and other media companies.
"PIF's export partners have very valuable government contacts to underpin and support the potential for us exporting to China and whilst the regulations around getting products into China are complex, we hope to find a sustainable model to enable us to achieve a healthy export business into China."
Mark Hirschel from HOWND said: "China's pet industry is growing and evolving quickly and the trade mission proved to be a valuable experience. Having the opportunity to visit a trade fair, meet with government officials and trade association members, and walk through several free trade zones put things into perspective.
"With 30% growth year on year, the size of the opportunity is massive but it is important to understand the changes that are being implemented, the time scales involved, and how this affects your own classification of goods.  The demand for premium Western brands is growing as the younger generation are choosing to have pets before kids and the importance of humanisation, premiumisation, and transparency are becoming more prevalent.
"Having the right local partner on board is important and I believe that HOWND is well placed to capitalise on this growth."
Gertjan Willems from Prins Petfoods added: "This China trip was an important behind-the-scenes opportunity to see the future China pet market. We hope to be part of that future where products, services and above all education will improve wellness of pets and their owners."
EXCITING MARKETS
Nigel Baker, Pet Industry Federation CEO said: "With all the uncertainty surrounding Brexit currently, the Chinese pet market offers PIF member manufacturers a very exciting market to consider trading with.
"This successful trade mission has undoubtedly opening many doors for the companies who attended and were represented there.
"The Pet Industry Federation is grateful to its export partner, Best for Pets Supply Chain Co. for the exceptional opportunities they provided for us during our visit and their generosity.
"It is important to seize on the momentum that this trip has generated and continue to grow a sustainable avenue for UK pet products to access this increasingly important pet market and PIF is committed to overseeing that process and supporting its members on that journey."