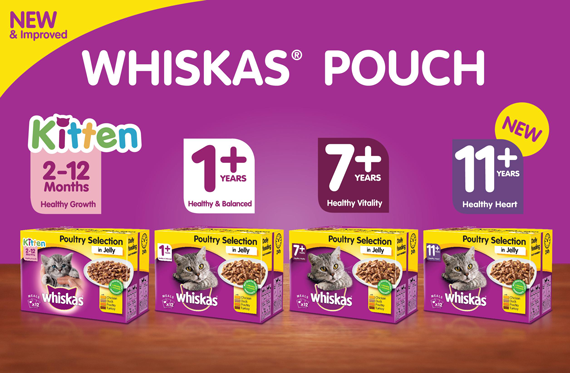 Mars Petcare has launched a 'powerful renovation' of its product, design and claim upgrades for Whiskas Pouches, all supported with a 'huge in-store activation'.
"The renovation will deliver a new and improved recipe that is even better looking and extremely tasty, with improved aesthetics and an even more delicious gravy and jelly," a brand spokesman said. "Over 30% of 'Cat Wet' shoppers in the UK are exclusively seeking natural and real-looking cat food and are willing to pay more for it – and the new aesthetic improvements tap into this growing demand."
At the same time, Whiskas is to continue its 'lifestage journey' by tailoring nutrition to the main stages of a cat's life – including the launch of an 11+ offering. In the UK, more than 18% of cats are over 11 years old and Whiskas says it is the first mainstream brand to step into this higher age bracket. The 11+ proposition will be available in Meaty, Poultry and Fish Selection.
The packaging includes the stated commitment that Whiskas' products are made 'with selected natural ingredients, vitamins and minerals', while the Certified Sustainable Seafood MSC stamp of approval is on all the fish products.
TRANSFORMATION
Whiskas has also partnered with TerraCycle on the Pet Food Recycling Programme – a nationwide scheme that enables the transformation of waste packaging into useful items.
The Whiskas pouch renovation will be supported by an activation campaign called 'Get more MeWOW'.
Annie Argyle, Whiskas brand manager UK, said: "MeWOW is a simple, powerful expression of innovation, taste and, most of all, enjoyment. It is grounded in the category growth driver of balanced feeding, where in order to drive value through encouraging more wet feeding we must first create a product that cats (who are notoriously fussy) really enjoy. We have achieved this through the delicious taste and aesthetic of the new Whiskas pouch range that we know that both owner and pet will love."
The new Whiskas Pouch range is available to order now.