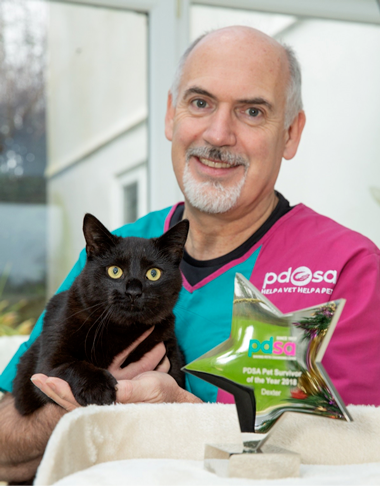 A miracle cat from Cornwall has been crowned PDSA Pet Survivor of the Year 2018.
Two-year-old Dexter was shot in July last year, leaving him fighting for his life.
The pellets went through his mouth, leaving his jaw fractured and an exit wound in the back of his neck, as well as metal shrapnel embedded throughout his head.
The plucky puss is now recovering.
Dexter and his owners have received a trophy, certificate and a luxury Christmas pet hamper to help him celebrate the festive season at home with his family.
Vet Jemma Gough said: "Throughout the entirety of his treatment he has been a pleasure to care for and the brilliant outcome we are seeing pays homage to his resilience and the true dedication of his owners.
"Dexter is a real character, and well deserving of this recognition. I'm sure his Christmas hamper will go down a treat."
Some of the other finalists included a Staffordshire bull terrier that had an 11-inch stick lodged through its throat and chest – after a game of fetch went wrong – and a ginger cat that was found impaled on railings, but was miraculously alive and conscious.