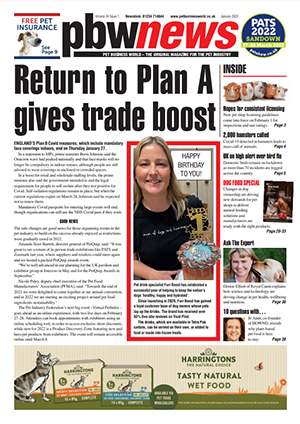 The January 2022 issue is now available online! Packed full of news, features and comments, including:
Return to Plan A gives trade boost: England's Plan B Covid measures, which include mandatory face coverings indoors, end on Thursday January 27.
Hopes for consistent licensing: New pet shop licensing guidelines come into force on February 1 for inspections and star ratings.
2,000 hamsters culled: Covid-19 detected in hamsters leads to mass cull of animals.
UK on high alert over bird flu: Domestic birds remain on lockdown as more than 70 incidents are logged across the country.
DOG FOOD SPECIAL: Changes in dog ownership are driving new demands for pet shops to deliver natural feeding solutions and manufacturers are ready with the right products.