Mick (left) and Tom stand in front of Trixie's Snack Bar – they were one of the first retailers in the country to have the display
Mick Holland and Tom Bradley have the perfect doubles set-up and recently moved their Retford store, Bradlands Pet Supplies, into new premises. Sandra Pearce visits to learn more about their business
Sometimes the most innocent of utterances provide the spark that lead to a brand new journey in life. For Tom Bradley, it came eight years ago when he told Mick Holland, 'If you need help, just speak to me'.
Tom is a tennis coach at his local club in Retford, Nottinghamshire, and knew then-club member Mick, who had taken over a pet shop. Tom said: "I was just about to start a business degree, and told him, 'If you need help, just speak to me'. I went on and did my degree, then went to Florida for three months coaching tennis and was actually offered a job there, but I have always wanted my own business so returned to Retford."
Mick comes from a long retail background and was working for Wilko's but also part-time for a small pet shop that was first set up in the 1970s. The then-owner had owned the shop for more than 10 years, which catered for just reptiles and aquatics.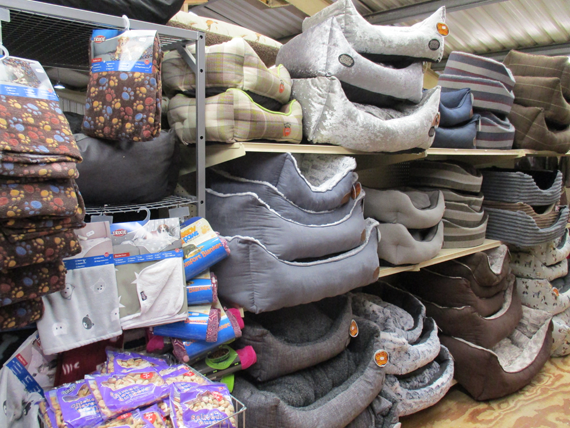 In their new location, bed sales simply took off
It was, however, 'dingy and run-down' and towards the end, had erratic opening hours. Mick said: "He then decided to sell, and at the time I was working in retail but in a supervisory position. I thought, I can do this (the pet shop) better and I gave it a year."
Mick took over the shop in December 2011 – it proved a huge undertaking. The shop was not profitable and so he had to rely on his Wilko's job for an income. It meant very long days, but the pet shop now at last had regular hours of 10am to 3pm, and then he was off to Wilko's from 5pm to 11pm.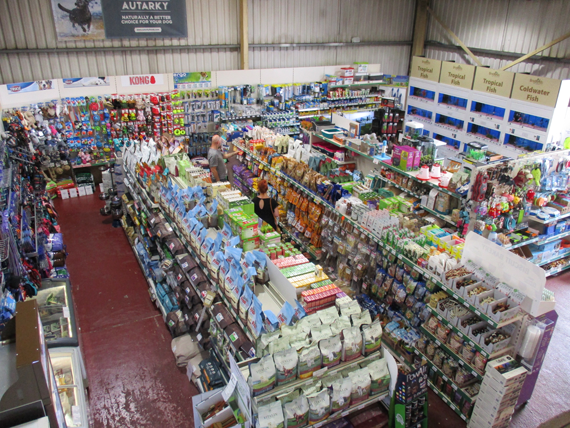 A bird's eye view…
With such hours, it was inevitable there was a casualty and Mick struggled to keep on top of paperwork – so Tom's offer was gladly accepted. Over the next few years, Tom continued to help and as the business grew, bought into it. In 2015, he took the plunge and came on board full-time – by this time, Mick had left his other job and the shop was running normal opening hours. Tom, as an aside, still coaches, but only evenings and weekends.
Mick said: "The shop just grew and grew. It was so full of products you almost could not move! But the shop was so narrow and long, you really needed two people all the time just to keep an eye on things."
Then in 2017, they decided to change the shop's name in an effort to wipe the slate clean and cut associations with how the shop had been run before Mick took over. Bradlands Pet Supplies – a fusion of their surnames – was born. "We also gave the business a fresh, vibrant, new look," said Mick.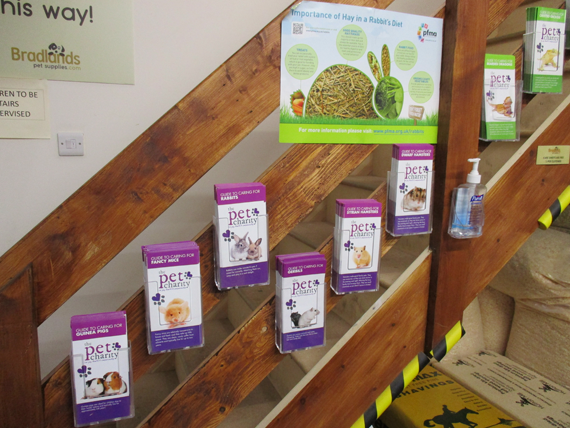 Staircase bannister is a good place to put information, such as the PFMA's A3 poster on feeding hay to rabbits
Another milestone moment arrived last year when a unit of about 4,000sq ft on a business estate came up for rent, five times the size of their existing unit. Tom said: "We knew we needed somewhere bigger, and this was perfect. You need this size for a pet store today."
There was a three-month crossover period where Mick and Tom would work at the shop in the day, then work for a further four or five hours at night getting the new premises ready before they finally opened in October.
Mick recalls: "It was a joinery before, so was very dirty and dusty; we employed someone for a month just to clean it."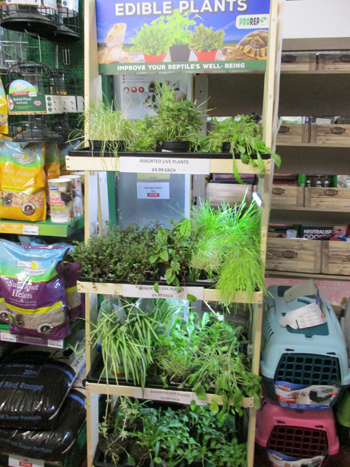 Seldom seen in shops – edible plants for reptiles
Both wanted the shop to reflect their new business ethos and so upgraded the cages and housing, using Hertford Shelving for shopfitting. They are full of praise for its owner, Steve Lodge, who had lots of advice and suggestions. Mick said: "He was terrific and helped us out a lot. He knew we were self-funding and that we wanted a nice, fresh look. Aqua One were also brilliant – they did the tank installation and helped a lot."
Many sales reps were incredibly supportive of their decision to move to the larger store. "Those who supported and encouraged us, we have stayed with them," said Tom.
Competition comes in the shape of a couple of other independents, a country store and an aquatics store – the pet chains are all about a 10-minute drive away. Bradlands therefore does not stock equine as there is already a provider, and they also have a good relationship with one of the independents – each stocks certain brands that the other does not so as not to cross over, and will send customers to each other if they don't have stock.
IN THE COMMUNITY
Retford has a population of about 20,000; both Tom and Mick grew up in the market town and know many in the community, especially with Tom's tennis coaching and Mick having worked in Wilko's.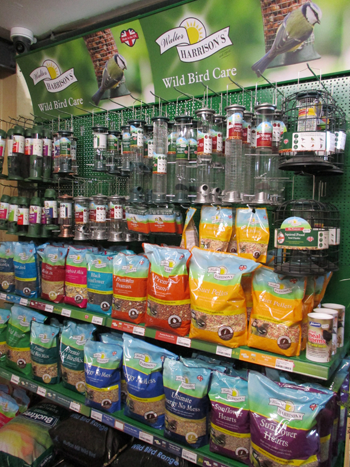 Wild bird food is a strong seller
Mick admits to being somewhat trepidatious about moving to the new premises and whether customers would follow, but his anxieties were soon blasted out of the water; since the move, they are seeing on average 200 more customers a week, mainly from Retford and the surrounding villages. The ample parking just outside has also helped.
Social media is a main marketing tool and Facebook, they say, is fantastic. They often use Facebook to announce local promotions and give discount codes online that customers have to use instore.
Open Days with an animal encounter have proved popular – one visitor waited 45 minutes for an encounter with one of the animals on the Open Day to mark the opening of the new premises.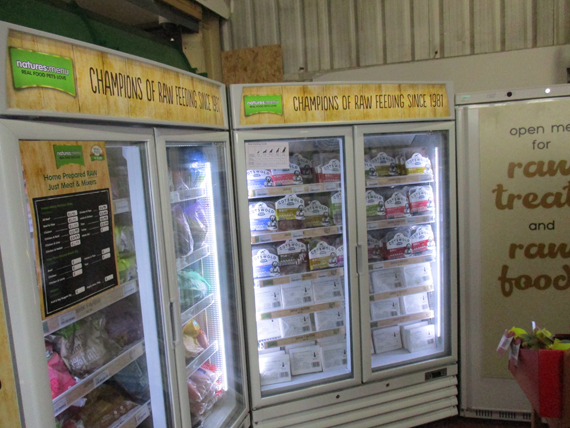 Mick and Tom are looking to grow their frozen offering
Looking around the shop there is a good mix of everything from small animals through to dog, cat, aquatics, reptile and bird products, a huge change from when Mick first took over and it was just aquatics and reptiles. He remembers the first Christmas and bringing in dog Advent calendars and a few bags of dog food. "The thing that really got us going was Vitalin," he said. "The rep, Camilla Helley, was absolutely fantastic and really helped with our move into the dog market."
Vitalin is, of course, a local brand with its offices in Retford – and customers like supporting local businesses. Today, Vitalin remains a top seller along with Bradlands' own brand pet food (a pallet a week) and Autarky.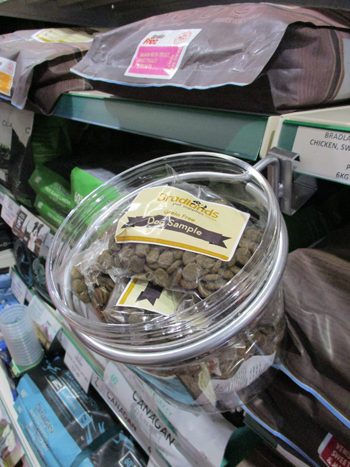 Making it easy to try something new
As with so many retailers today, raw is doing extremely well and they have six freezers, with plans to add new suppliers and even more freezers. Sales on Natures Menu alone are up 70% year on year.
Tom said: "You can tell how it's becoming more popular. We brought in raw about five years ago and when we asked customers, 'Have you heard of raw', few had. But now, most people have heard about it. And the new trend now seems to be 80/10/10."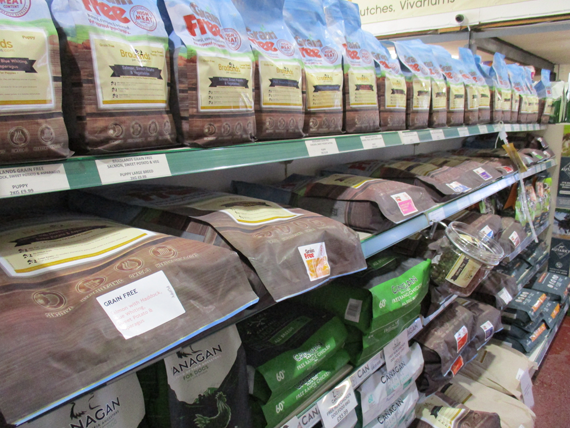 Bradlands has a large own-label offering
Yakers, they say, has been 'fantastic for us', as are aquatics ornaments and dog toys, but the last two need changing frequently to keep interest high and encourage repeat purchases. The new store also means for the first time they can have a large display of beds – and sales immediately shot up.
They've also noticed an uplift in racing pigeon food, with owners placing regular orders for their preferred brand.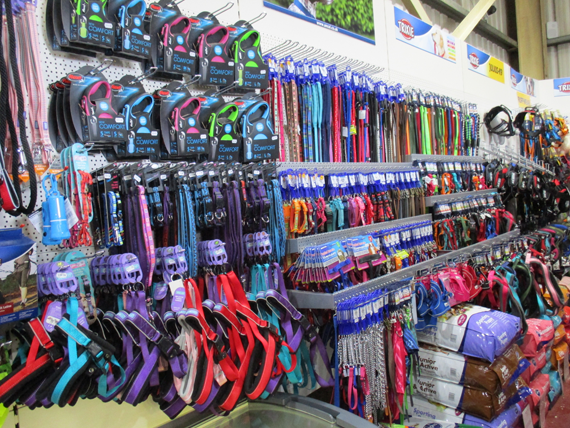 Leads, collars and harnesses brighten up a wall
Generally speaking, however, customers are families with dogs and cats, maybe a few goldfish or tropicals.
Its early days yet in the new location, and Mick and Tom are still experimenting with merchandising and layout. Tom said: "We have to get into the head of customers, and we have to be really critical. I will walk around the store and say 'This looks awful, how can we change it?'. I can be completely detached."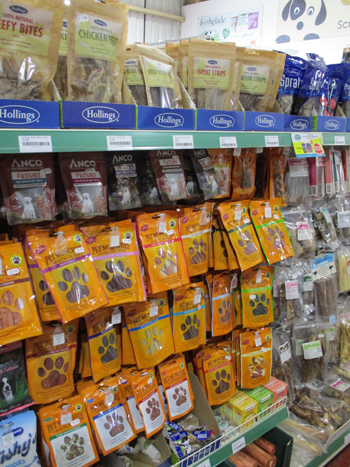 Demand is growing for natural treats
Any product that makes little profit or does not sell well is delisted – and cat has had a bit of a purge.
"We went in and took out about half of what we were selling," said Mick. "We delisted a lot – all grocery apart from bulk packs – and built up Carnilove and Acana. If you stock the more premium brands, they do seem to sell."
Cat is challenging, they said, but owners are cottoning onto the fact that cats are obligate carnivores. But there is still a core group of owners who buy their Eden dog food or similar from them, but Whiskas and Felix from the supermarket – which they can see in bags when they help carry dog food to their car.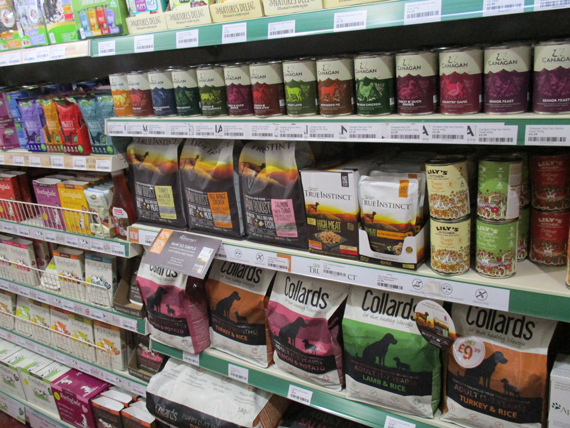 Lots of choice for the dog owner
Keeping things fresh and bringing in new products is important, they say, and a classic example is the Snack Bar from Trixie. The two had visited the Trixie trade show in Germany and fell in love with the new display which encourages customers to pick and choose natural dog treats. "We are now one of the first in the country to have it. It's also good because it uses less packaging, and we have paper bags for customers to use," said Mick. "We used to bag up a lot of stuff, but now it's letting customers have a go."
One of the best things they ever did, however, was to invest in an EPoS system; their provider is Epos Now. In the early days, everything was done on paper but now, with an EPoS system, they can analyse their sales and spot trends. Tom said: "We are definitely using it better now for analysis, and it was the biggest thing that started to transform the business. It's all led to a better customer experience."
UPPING ONE'S GAME
Having an online presence is crucial in today's retail environment – for a local shop, it's a good way of letting customers know what's available. Bradlands also has an ecommerce site through which they offer local delivery. Nationwide delivery presents its own challenges as most people expect free delivery. Tom said: "Amazon and Amazon Prime killed the online trade with their free delivery and next-day delivery."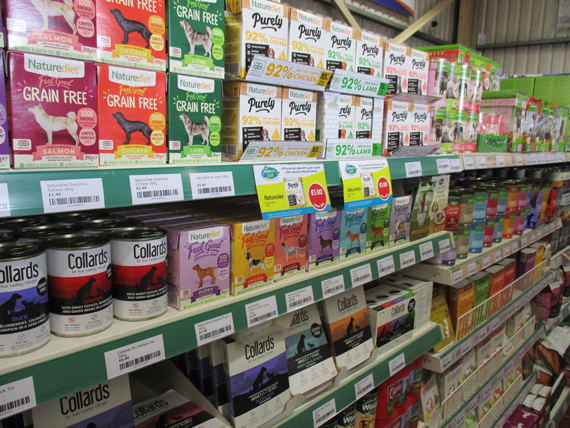 Specialist wet dog food takes prominence instore
Both also think there should be a minimum RRP which is set in stone to stop the steep price slashing that can occur online. "You have some who sell a product for minimal profit, but it is killing it for all of us," added Tom. "There should be a minimum RRP, otherwise it just devalues the brand. We are a small company, and if a big online company comes in, they get all the deals – James Wellbeloved is a classic case of being available all over the internet.
"Even Forthglade was available on Zooplus for cheaper than we can buy it for. We called and complained, and the rep immediately got back to us. But there was nothing that could be done."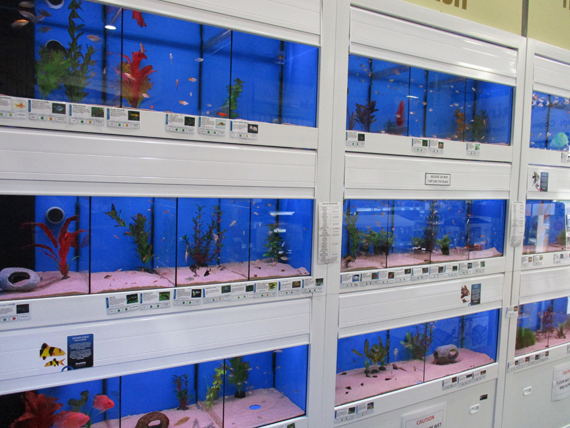 Aquatics focuses mainly on bread-and-butter tropical and coldwater species
To keep customers returning, Bradlands offers a number of services such as harness fitting and supports local events by donating their own-brand food or giving away vouchers. Apart from local deliveries, they also offer water testing for fish, free food samples and loads of advice, of course. Loyalty cards are also popular, both their own and those of manufacturers.
"We want people to come here and be excited about what they find here," said Tom, "we are still new to this, still learning and experimenting."
"But you know what," adds Mick, "where there's an opportunity, we will give it a try."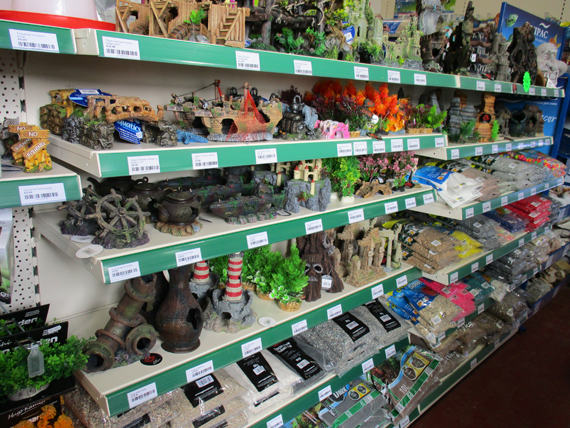 The secret to good aquatics accessories sales, they say, is to keep bringing in new designs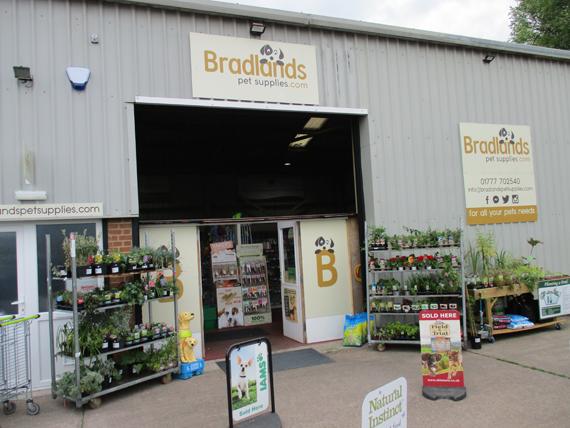 Plants and a number of pavement signs brighten up the entrance