Following a successful career as a dog trainer, Jacqui Wingfield switched to retailing and opened Paws on Track, a shop focusing on all-natural dog food and treats, last month. And local pet owners have already taken the store's philosophy and service to their hearts
When pbwnews visited Paws on Track in Haywards Heath, West Sussex, just three weeks after opening, the store was already proving popular with local shoppers and, judging by the succession of happy and healthy dogs pulling their owners around the store, popular with their pets, too.
Jacqui Wingfield's smart and well-organised store offers a neatly-displayed range of natural products, two freezers for raw food and a display of loose treats, as well as a selection of leads, harnesses and toys. The walls are decorated with framed photographs of pets – all owned by family and friends, including Jacqui's own two dogs.
"We have had a brilliant response from the shoppers, all very positive," says Jacqui. "It's been even better than expected, it's blown me away.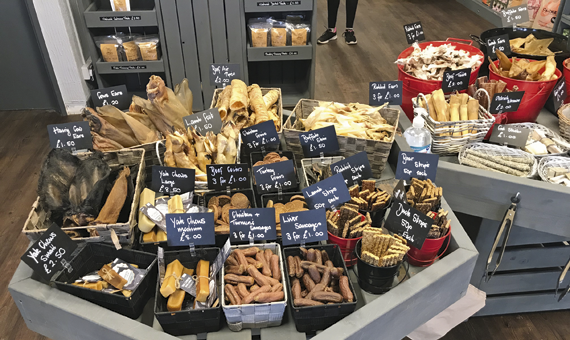 The store's attractive display of open treats is the best seller
"The feedback we are getting from customers is that they are loving what we are trying to do."
What Jacqui is trying to do is to run a pet store selling purely all-natural foods. Only brands with no artificial ingredients are stocked, the vast majority also grain-free (the exception being insect protein lines which include rolled oats).
"We might have a smaller range than some stores, but it is good quality and 100% natural," she says.
Jacqui is from the Sussex area originally, but until recently was running a dog training business in four sites across Middlesex and Surrey.
"I wanted to move back home, I found this unit and thought it was perfect."
LOCAL DEMAND
Jacqui has been retailing on a small scale since April 2019 by selling natural treats at market stalls and dog events. For the past six months she ran a stall at the market in Haywards Heath, which like the new store operates inside the Orchards shopping centre, and saw it as a useful way to gauge local demand for the products she wanted to sell.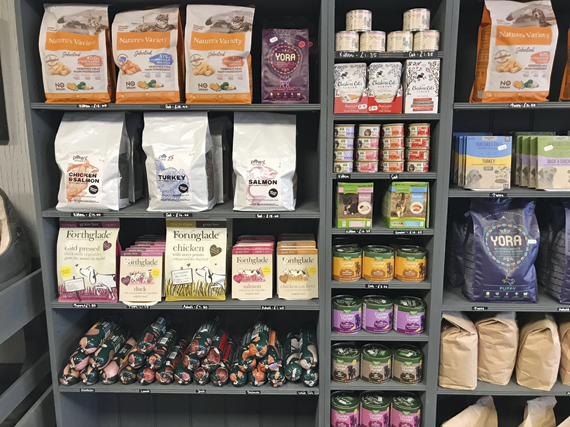 Only brands with no artificial ingredients are stocked
"It all grew organically from the training business," she explains. "I was seeing a lack of response from dogs given poor quality treats, as well as leads, collars and harnesses not fitting properly.
"There are shops out there that will sell you something without giving any advice. I wanted to see if I could do it differently, and to give that advice and to make sure that collars fit properly and so on, all at the right price.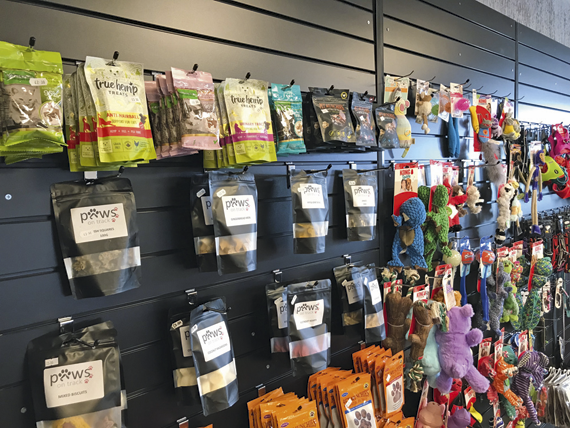 "Nutrition is everything – it affects how dogs behave, and how they perform. So I took some courses on the subject and started looking into what products were available. I am always learning. I do this for the love of dogs, that's the driving ethos."
Despite the whole unit only measuring only 747sq ft, there is a large open floor area for dogs to explore and feel welcome.
"I didn't want this to be a traditional pet shop," she continues. "I wanted open space, so it was as welcoming as possible. It's all geared towards the animals."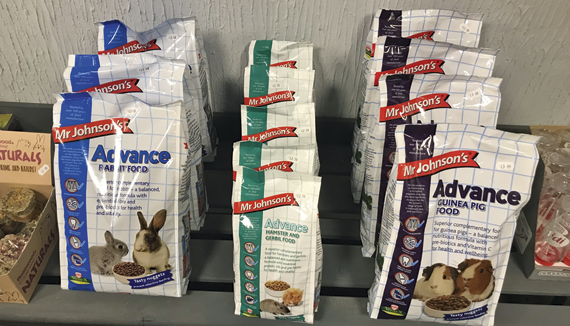 Since opening, Jaqui has added small animal food
A range of foods and training treats are sold under the Paws on Track label.
"All products fulfil the criteria we have set – natural ingredients, real meat, no filler. We keep the packaging simple and cost-effective, so we can give customers a cheaper product that is just as good. We are trying to allow people to give dogs the best, even on a smaller budget."
Packaging for the own-brand lines is recyclable and loose treats are sold in paper bags. Plastic bags are biodegradeable, and electricity in the store comes from a supplier committed to sustainable and renewable energy.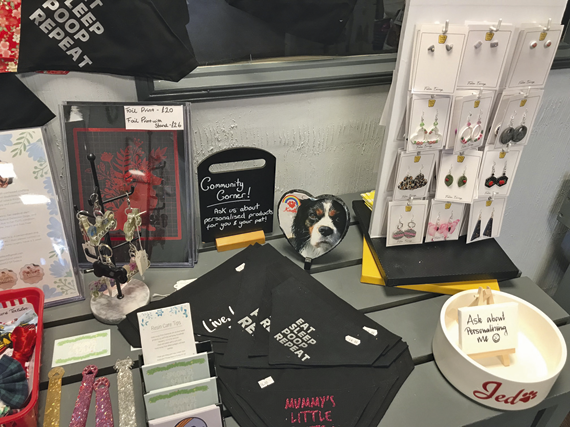 Community Corner: an area dedicated to products made by local people
The store's attractive display of open treats is the best seller. As well as being a point of difference, they work well in the location.
"We are in a shopping area so people might buy a treat for themselves as part of a shopping trip, and for the dog too," explains Jacqui. "People can buy just one at a time too, which they like."
Weekends are particularly good for business: Saturdays are busy all day and Sunday is the second busiest day, despite the store only being open for four hours.
"We get footfall because of location, and we get a lot of repeat business too," says Jacqui. "There are people I used to serve in the market that are now regular customers in the shop.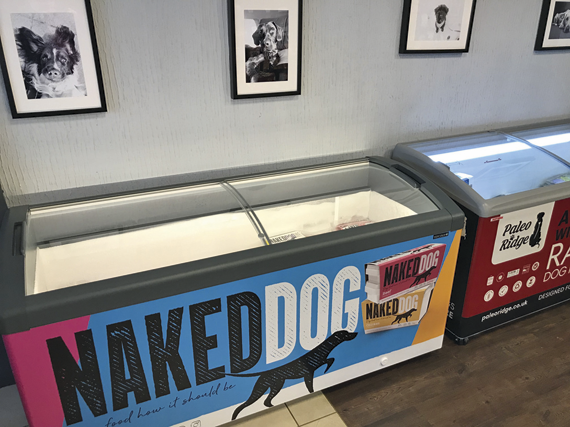 Two freezers offer raw food
"I try to be different, and to give a really personal service," she continues. "I actively encourage people to bring dogs into the shop, and I greet the dogs and learn their names.
"I am here to be friendly – even if people just want advice and don't purchase anything that's fine, I'm happy to help."
Another key aspect of the ethos of the business is to be a positive part of the community. Shoppers can donate in store to a food bank for the Kit Wilson Trust, local rescue organisation, and Jacqui has also taken on a work placement student from a local college.

Customers can donate to a local rescue centre
The shop also incudes a 'Community Corner' in store – a fixture dedicated to products made by local people. Jacqui has also set up a website for the shop, with a limited range of products available for online sale and home delivery.
Overall, things are going very well, she says.
"Sales ahead of where we needed to be, in fact they are ahead of where we thought we would be after a few months, let alone weeks."
INCREASE AND ADAPT
Since opening, Jacqui has added some cat products and small animal food too.
"As I learn more, I will increase and adapt the range," she says.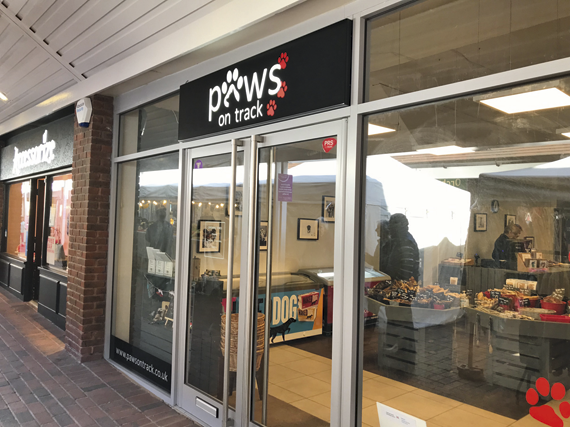 The store is located in a shopping centre with high footfall
A key step-change is scheduled for the beginning of April, when a grooming parlour will be added to the back of the store. Experienced groomer Emma Burrows, who worked with Jacqui at the training company, will provide the service, which is certain to bring in additional footfall to the retail side of the business.
The grooming service already has some bookings, so it is easy to assume that Jacqui's new venture is firmly on track to continue to go from strength to strength.