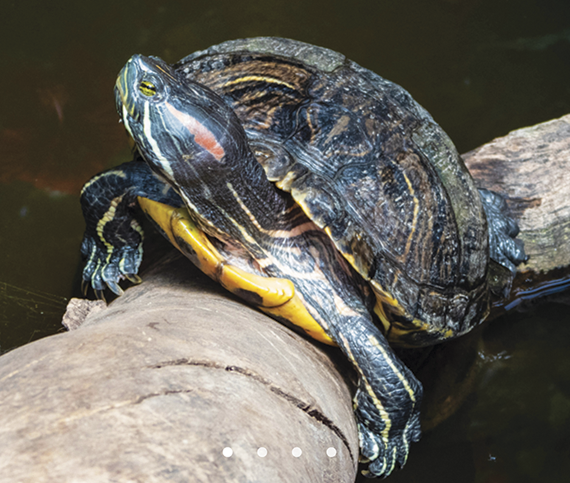 Terrapins living in a country park lake have been rehomed into a specialist turtle sanctuary in a bid to safeguard their future wellbeing and protect the water's ecosystem.
The reptiles, whose diet includes fish, amphibians, small rodents, birds, eggs, larvae and plants, have been upsetting the natural habitat of other plants, insects and wildlife at Black Park lake near Slough, after being abandoned by previous owners.
In a bid to solve the problem, Buckinghamshire Council's country parks team joined forces with the National Turtle Sanctuary to relocate the creatures.
Working with experts from the sanctuary, the team placed a number of humane traps in the lake to carefully capture the reptiles. The sanctuary retrieved the semi-aquatic creatures and transported them back to their base in Lincolnshire where they took up permanent residence in a new custom-built home.
ENVIRONMENT
Andy Ferguson, herpetologist from the National Turtle Sanctuary, said: "Black Park lake is a beautiful
location and many people may think the terrapins would be happy here but unfortunately that is not the case. Without proper acclimatisation and monitoring within their environments they can suffer awful consequences."
Clive Harriss, the council's cabinet member for culture and leisure, added: "Our country parks provide a natural home to a wide variety of plants and wildlife. Sadly terrapins are not one of those natural species. We have had to carry out this work to ensure these creatures are taken somewhere better suited to their needs and our native species do not suffer at their expense.
"I would urge anyone who has a pet terrapin but who perhaps can no longer look after it to get in touch with organisations like the National Turtle Sanctuary to enquire about rehoming in a suitable new environment."