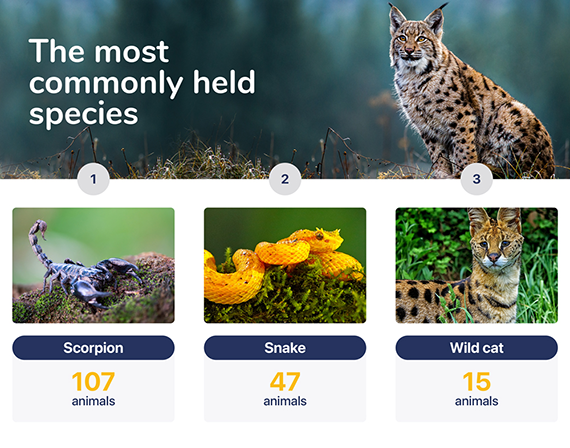 There are nearly 200 'dangerous' exotic animals being kept as pets in the UK, including Buthidae scorpions, vipers and Savannah cats, according to a new study.
The research, from money.co.uk, submitted Freedom of Information requests to councils around the UK to find out how many licences were held to keep 'wild, dangerous or exotic animals' and which species were being kept.
According to the study, the UK's most commonly held exotic pets are: Buthidae scorpions (100), green bush viper (10), green tree viper (7), leopard cat (6), monkey (5), copperhead (5), Savannah cat (5), Cuvier's dwarf caiman (4) and monocle cobra (4).
Aberdeen headed the list of areas with the most licences under the Dangerous Wild Animals Act, with 106, which included 100 Buthidea scorpions – suggesting they were all owned by one keeper.
Coming in second was the London borough of Islington, with 17, including green tree vipers and American copperhead snakes.
Taking third place was Telford, with 11 exotic pets being kept in the area, these include ocelots and spiders.
You can view the full research and the real life 'Joe Exotics of the UK' at www.money.co.uk/pet-insurance/exotic-animals