Natures Menu has extended its Natural Raw Freeflow range.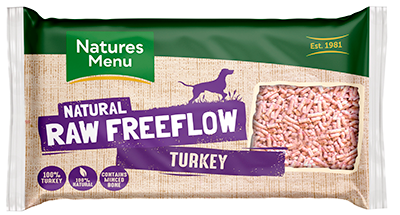 Turkey mince is now available as part of the brand's Home Prepared frozen offering – exclusive to the specialist pet trade from August 1.
This single-protein, free-flow mince has been formulated using ethically sourced natural raw turkey meat. The free-flow format makes home-prepared portion control, storing and serving easier, with the large bag size appealing to those looking for value or feeding bigger breeds of dogs.
The mince is available in 2kg packs and joins the Natural Raw Freeflow range of Chicken, Beef, Tripe, Chicken & Lamb, and Chicken and Tripe. The packaging is consumer friendly with easy-to-understand labelling, featuring updated storage and feeding instructions. The product is in block format for space-efficient storage.
GAP
James Langan, managing director at Natures Menu, said: "The new Turkey offering perfectly fills the gap in our current Natural Freeflow Mince range.
"We believe dogs deserve real, natural food; that's why for the last 40 years we have continued to make high-quality, easy-to-feed raw food that dogs will love.
"We are committed to meeting growing demand for Home Prepared by giving customers more variety. It's all natural, with no added colours, flavourings or preservatives. Packed with goodness, customers have the freedom to mix real, natural and healthy meals to their dog's individual tastes and needs."
Natures Menu specialises in raw dog food made with fully traceable meats and fish, blended vegetables, fruits and carbohydrates, and uses British suppliers and ethical product sources wherever possible.