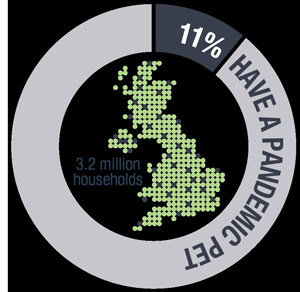 New research by the Pet Food Manufacturers' Association reveals that a staggering 3.2 million households in the UK have acquired a pet since the start of the covid-19 pandemic.
In its latest Pet Population Data survey, the PFMA said the big increase was driven by younger families, with two-thirds of new owners aged between 16-34.
Although 74% claimed their pet had helped their mental health through the pandemic, the study raised pet welfare concerns.
Nicole Paley, PFMA deputy CEO, said: "Our research confirms the belief that many more people are benefiting from pet ownership and we are reassured by the mental health findings. However, it is clear that we need to consider the welfare of these new pets. As our survey highlights, introducing a pet to a household in covid times can have repercussions or create some unexpected difficulties."
According to the survey there are now 34m pets in the UK, including 12m cats and 12m dogs, 3.2m small mammals such as guinea pigs and hamsters, 3m birds and 1.5m reptiles. There are also 5m aquaria. This equates to 17m households responsible for a pet's welfare.
NEW BABY
Over a third (38%) of new owners claimed that having a new pet was like having a new baby and almost a fifth (17%) of families with children admitted that training was more challenging than expected.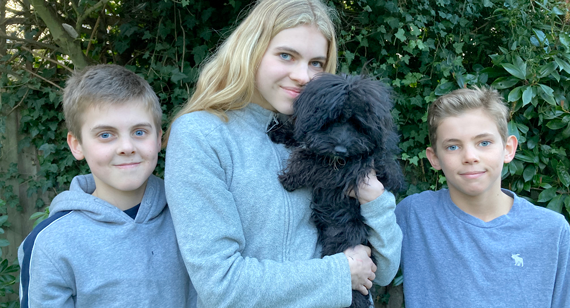 "We also looked in more detail at the future concerns of new pet owners," added Nicole. "Perhaps worryingly, although just 15% have a pet-friendly office environment, only 10% were concerned about returning to work and spending less time with their pet. This figure rises among younger generations with 15% of 16 to 34-year-olds concerned about spending less time with their pet in the future..
"We must work together with the pet care sector to ensure the 3.2m households with new pets get the support they need. This is in terms of access to educational material, training and adequate flexible working from home or pets in the office policies."
In the survey of more than 5,000 households, 5% of new owners had already given up a pet.
The PFMA is collaborating with welfare organisations like the RSPCA and Battersea to ensure support and advice is readily available to new pet owners as lockdown restrictions are eased.
AT HOME
RSPCA pet welfare expert Dr Samantha Gaines said: "As the PFMA figures demonstrate, a huge number of people have added a new pet to their family during lockdown while other pet owners have made the most of spending more time at home during the pandemic to enjoy the company of their pets.
"Many of our pets are now used to having us around all the time while others have never known any different so we have real concerns that life post-lockdown, both in terms of a new routine and spending time alone, could be really difficult for them to adjust to which is why it's so important that owners start to prepare them now. In the absence of this preparation, pets could be facing their own crisis."
Battersea's canine behaviourist and training manager Janine Pemberthy commented: "As many of us eagerly prepare to start spending more time outside our home again, whether it be to go into the office, visit friends or head to the pub, it is vital that we ensure our pets are also prepared for this big lifestyle change.
"There's a whole generation of new dogs that don't yet understand that lockdown life isn't the norm, and as a result we believe there may be some key areas that owners will need to work on with their dog, such as separation anxiety and meeting new people and other dogs, before we all return to 'normal' life.
"To help with this preparation, Battersea is hosting a series of virtual training classes focusing on specific areas of training for puppies and young adult dogs, and we encourage all members of the family to take part. Rescues like Battersea are here to help owners long before they need to make the difficult decision to give up their pet and we'd urge anyone struggling to care for their dog to get in touch."
CASE STUDIES
Two households in South London have compared pandemic puppy stories – having initially met walking their very similar dogs in a South London park..
The Flints (late 40s with children 11, 13 and 14) said: "During the first lockdown, we realised we had time to introduce a dog to our family – something we had wanted for years. We added Minnie (a Schnoodle – Schnauzer/Poodle mix) to our family in January. She has been such a positive distraction during lockdown and has certainly benefitted our children's mental health."
Marie Da Silva (30 and single) said: "I have always wanted a dog and chose a Schnoodle for temperament and being hypoallergenic. I also needed a small puppy as I live in a flat with a small outside space. Stevie is a ray of sunshine. There is no way I could have adjusted to life with a puppy had there not been a pandemic. Luckily, I work in a dog friendly office and the two months of lockdown have really helped me train her."