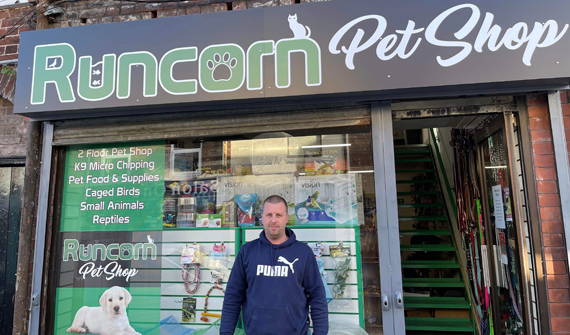 A pet shop's social media plea to 'use it or lose it' has given the owner the boost he needed to keep the business going.
Christopher Jones made the plea on his Runcorn Pet Shop's Facebook page after footfall at the store decreased dramatically.
Christopher posted: "The shop has been absolutely dead these past three weeks. Please give me a try before going to big chain stores and shopping online. I will do my very best to price match where possible. I'd love the shop to be able to thrive, giving the old town its long-standing pet shop back but if it's not used then it can't just stay open."
And his threat to close the shop had the desired effect with more than 150 people entering the building within 24 hours. The post also received 75,000 views over the next week.
Following the remarkable response, Christopher commented: "Business has improved and I have met some lovely people who have visited the shop to support it following the Facebook post. I want to thank everyone for sharing the original post."
Christopher has also been motivated to get a website up and running as soon as possible and is looking to offer nationwide delivery.
The pet shop has been in operation for more than 30 years with Christopher taking ownership of it in 2017. But his problems began when there was a downturn in town centre business caused by the temporary closure of the nearby Silver Jubilee Bridge spanning the River Mersey.
Spirits in the town lifted earlier this year when it was announced that Runcorn town centre would receive more than £23 million in government funding to create housing, leisure, employment and training projects over the next few years.
Christopher said: "News of the regeneration grant has given all shopkeepers and business owners a boost. I wanted to continue with the pet shop and used the Facebook page to remind people we were open for business. And it seems to have worked."