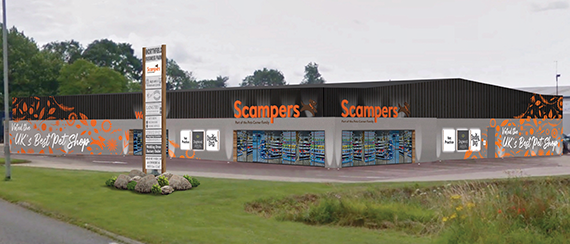 Artist's impression of a new-look Scampers
Award-winning Scampers Natural Pet Store in Cambridgeshire is to become part of the Pets Corner group.
Scampers, named Joint UK Pet Retailer of the Year in the 2020 PetQuip Awards, has been owned and run by Piers Smart and his wife, Michelle, since it opened in 1985.
"We are so happy with everything and especially with what Pets Corner managing director Dean Richmond is planning for our brilliant business," Piers told pbwnews.
"Michelle and I have poured our hearts and souls into Scampers over the past 35 years, running it together, but now feel it is right to take some time for ourselves and hand over the torch to Dean and his brilliant team of people, who love pets just as much as we do. It is time to be Mr and Mrs Smart, not Mr and Mrs Scampers.
"Dean and I have a friendship that goes back 20 years and quite honestly there is no-one else within the pet industry that I would rather see take over the future of Scampers."
The store will still be called Scampers and will be unique within the Pets Corner family. Although technically retiring, Piers and Michelle will still be involved in much of the accessory buying, consulting and product innovation. "I will also be seen cutting the grass," said Piers.
Dean Richmond said: "We are delighted that Scampers has joined our family.
"They share the same passion for nutrition and ethics that have driven our business since 1968, when my parents opened the first Pets Corner.
"Piers and I have known each other for many years and have worked together developing our independent pet trade friendly brands and businesses and hence why Scampers is such a natural fit.
"We're retaining the Scampers name because of its incredible reputation but will be updating the store and eventually installing our natural grooming spa Dogwood and Doodley Dogs creche."