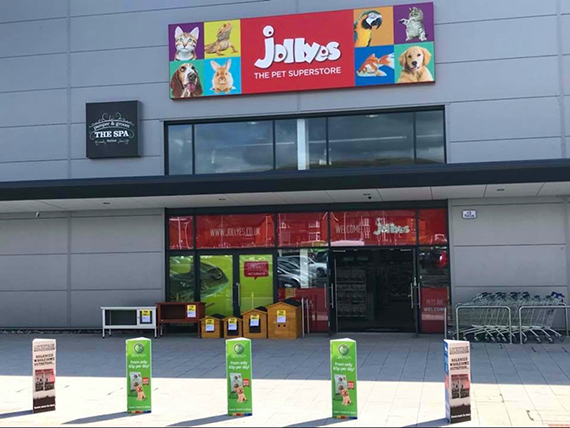 Jollyes – the leading pet retailer in Northern Ireland – says pets are still getting their food and treats despite the disruption to trade at ports.
Its 12 stores in Northern Ireland, like the other 55 Jollyes stores in the rest of the UK, have remained open for business as an essential retailer during the pandemic.
Over that period sales in Northern Ireland have risen by more than 20%, the strongest growth in any of the retailer's divisions.
The good news for pet owners is that the vast majority of supplies are now getting through normally after early problems after the new Northern Ireland Protocol came into force at the turn of the year.
BUSINESS AS USUAL
In early January, Jollyes, like many other businesses, faced delays moving goods to Northern Ireland because of new certification requirements but after significant behind-the-scenes work, its stores across Northern Ireland are now fully stocked and it's business-as-usual.
"We appreciate the pragmatic approach taken by the NI Assembly in helping us ensure trade flows are as smooth as possible as we all get used to new processes," said Jollyes commercial director Chris Burns, who comes from Omagh.
"Pets are part of the family and caring for an animal brings enormous enjoyment and contributes to well-being. That's never been truer than over the past year."
Jollyes is proud of its Northern Ireland heritage and 'the passion and expertise' of its 120 staff across the country. Its top performing Jollyes stores in NI are Derry/Londonderry, Ballymena and Bangor and all 12 of its NI stores have active social media pages to bring their expertise to local people.
And all Jollyes' animals in Northern Ireland, from birds to bunnies, are bred locally and never have to travel more than an hour to a store. The retailer also stocks a wide range of local NI brands including Feedwell, Pedro, Clinivet, Engage, Brandy and Dr James.