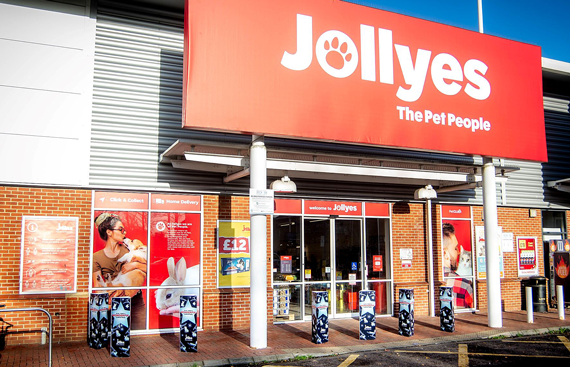 Jollyes has revealed plans to invest £500,000 in Bristol, creating up to 12 jobs by opening a new store in Brislington, relocating its existing store in Longwell Green to Warmley and refreshing its store at Cadbury Garden Centre in Congresbury.
Over the course of the next few months there will be significant changes to Jollyes stores in and around * On Saturday (September 11) it will open a new store at Warmley to replace the store next to Wickes at Longwell Green. The new Warmley store will offer exactly the same ranges as those currently available in Longwell Green and all 12 colleagues will transfer to the new location, just a mile away. "
. . –  Subject to planning permission, Jollyes will open a brand new 7,500 square feet store at Brislington in December, employing 12 colleagues. with a range of live animals and for the first time bringing a pet spa to Jollyes' Bristol customers. "
. . –  In early January, it will relocate its store at the Cadbury Garden Centre in Congresbury, where 13 colleagues work, to a new unit at the garden centre. Jollyes at Congresbury is renowned in the region for its live animals and the expertise of its people – the new store will have the same range of animals in an improved location. "
. . –  Jollyes will recruit to fill 12 new jobs that will be available across its Bristol stores once Brislington opens, in addition to the 25 jobs that will be safeguarded by the relocations.
The expansion in Bristol is the first stage of ambitious plans by Jollyes to accelerate its growth plans, opening up to 20 new stores over the next 18 months, creating up to 150 jobs.
PET-FRIENDLY CITY
According to a report from the Pet Food Manufacturers Association, South West England has the highest percentage of cat ownership in the UK at 21% of households, against a national average of 17%, with dog ownership at 25%, on a par with the national level. And Bristol was this year rated one of the UK's most pet-friendly cities and was among the most dog-friendly for its pubs and restaurants and access to nearby countryside.
Matt Godwin, regional manager for Jollyes in the south of England, said: "People in the west of England love their pets and over the years we've built up a solid bond with our customers here in Bristol and beyond.
"We're looking forward to reaching out to more customers here with new stores at Warmley and Congresbury and a new state-of-the-art store at Brislington. Together, they'll give us the best offer we've ever had for pet owners in and around Bristol."
In the year ahead, Jollyes expects to open new stores through both the targeted strategic acquisition of smaller pet retailers and taking on new leases across Great Britain and Northern Ireland.
From modest beginnings in Enfield as a single store in 1971, the company currently has nearly 70 locations around the UK.