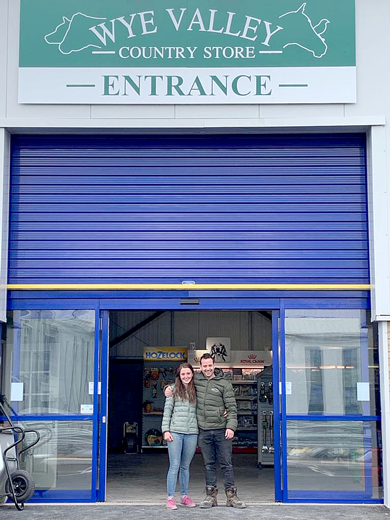 Wye Valley Country Store managers Barbara and Alan Griffiths
A family-run pet and livestock business in Monmouth, South Wales has secured a six-figure finance package from HSBC UK to expand its operation with a second retail store in Chepstow.
Wye Valley Country Store – run by husband and wife duo Barbara and Alan Griffiths and their son, Josh – caters for pet, poultry and equine owners, offering animal feed and farm supplies as well as bulk feed for farms and equestrian events.
The family, who started the business in 1996, have used the HSBC UK funding to build and fit out the new 7,000 sq ft store based in Chepstow, which will be run by Josh.
The HSBC UK funding will help the business grow its customer base in Bristol and the surrounding areas, while it continues to sell to customers in and around Monmouth. The expansion will also support the local economy, with eight new jobs expected, including shop assistants, warehouse staff and lorry drivers.
AMBITIONS
Barbara Griffiths, director at Wye Valley Country Store, said: "Since the business launched over 20 years ago, it has been our ambition to open a second site. We are thrilled to secure the funding from HSBC UK to finally be able to do this and are looking forward to expanding our customer base. The business means a lot to my family and me, so we are grateful for the support of HSBC UK and hope to be able to pass the business down through the generations."
Jade Cupples, HSBC UK direct banking relationship manager, said: "HSBC is committed to supporting SMEs across the South West and Wye Valley Country Store is a great example of the ways in which our funding can help small business owners fulfil their ambitions. We wish the company every success in its new venture and hope to continue our relationship in the future."
The HSBC UK funding is also set to grow the business financially following the opening of the second store, with an expected turnover of more than £1 million in the first 24 months.
The couple also work alongside their daughter, Jemima, who manages the day-to-day running of the business.