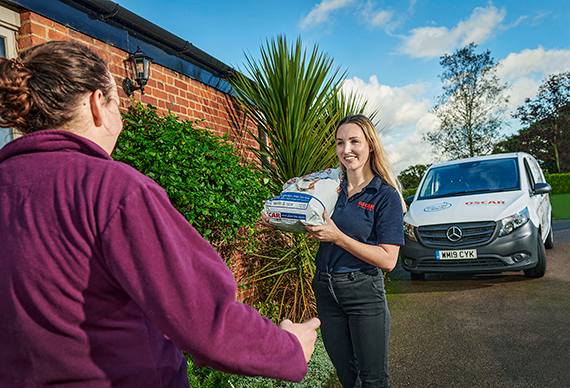 A budding business woman who took on a new pet foods franchise during the pandemic has put much of her increasing success down to her van.
Poppy Devlin secured the franchise for OSCAR Pet Foods in the Norwich and Norfolk Broads areas after the previous holder retired. She began trading in July, at a time when many small businesses were struggling just to stay afloat.
The 23-year-old knew she would be delivering large bags of pet food but felt slightly daunted by the prospect of driving a delivery vehicle.
"I'd never driven a van before and was a little concerned about handling a large vehicle, so I asked other operators which would be best for my needs," she said. "Several told me a smaller, car-derived van would be sufficient to do the job."
She looked to the Approved-Used selection of Mercedes-Benz vans from East Anglia dealer Orwell Truck & Van, and quickly decided that a Vito model would suit her requirements.
Poppy said: "I realised the Vito was hardly any bigger than a car-derived van in terms of its footprint, but offered a better view of the road from the driver's seat, and had a significantly larger and more accessible cargo area. The sliding doors on both sides would obviously be a big advantage, too."
The 2019 van came with just 7,000 miles on the clock and the remainder of the unlimited mileage manufacturers' warranty.
"The Vito is great to drive and has a real quality feel. Not only does it suit my business perfectly right now, but it will also stand me in good stead for the future. That's because when things get back to normal, I'll be attending shows and other events, so as well as stock samples I'll need space to carry a gazebo and promotional materials. I definitely made the right choice," she said.
Poppy is one of OSCAR's youngest franchisees. The company delivers a range of pet foods, treats and related supplies direct to customers' homes and new franchisees have to undertake intensive training before they can begin to operate.