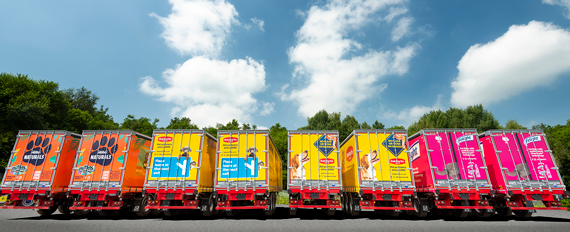 Pets Choice has unveiled a vibrant new livery for trucks transporting some of its leading brands.
There are 11 eye-catching trucks hitting the roads – all featuring brightly coloured branding for its pet food brands Webbox and Webbox Naturals, plus its cat litter brand Felight and pet health brand Bob Martin, best known for flea, tick and worm treatment products.
The bold designs bring the business' fun personality to life, notably including humorous messages and designs on the rear of trucks to amuse other drivers – including 'Fleas leave at the next exit' on Bob Martin livery and 'Stay back, give our tasty treats some space' on the Webbox livery.
As well as a splash of humour, the brightly coloured designs across the fleet won't be missed by fellow road users, maximising consumer impact when on the move.
All brands featured are stocked at leading supermarkets and pet retailers throughout the UK, with trucks clocking up thousands of miles each month to ensure supply meets demand.
HAULAGE PARTNER
Pets Choice launched the new livery with trusted, long standing haulage partner of over 30 years, Earl Transport.  Each Earl truck boasts the latest tracking technology as well as the lowest emissions available within the road transport sector.
Head of marketing Julie Butcher said: "We are really pleased with the new livery. The designs are fantastic and represent the fun personality of our leading brands – we can't wait to get them on the road.
"The new, very eye-catching designs will ensure our brands stay front of mind with other road users and consumers – adding a little smile or two at the same time. Earl has been a supportive partner throughout the process – we look forward to many more years of working with them."