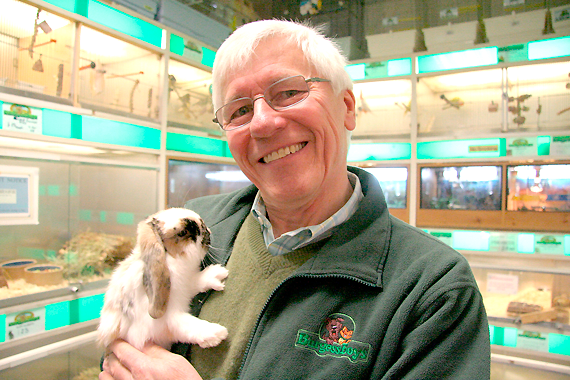 A long-established retailer says the pet industry will play an increasingly important role as the coronavirus crisis develops and it is vital that all pet shop staff are designated as key workers.
In an email to pbwnews, Ken Burgess, owner of Burgess Boys Pet Centre, in New Addington, South London, said: "Quite apart from being the best port of call for informed animal care advice and appropriate nutritional products we are also seen as an important hub for social interaction…
"We are seen as an integral part of our local community and not just another retailer.
"This applies to the vast majority in our industry because we interact with the pet-owning community and as such are a vital point of contact which will become even more important as time progresses, not just for animal welfare but the mental wellbeing of their owners."
COVID-19 TASK FORCE
Ken – a local Covid-19 Business Task Force member and former director of the then Pet Care Trust – said: "Since we sell live pet animals they are, and always have been a priority in the scheme of things, and must be tended to daily. This factor alone means we have to be classified as key workers
"Unfortunately, I fall into the at-risk over 70s category and must stay away from my shop during opening hours. My staff have come up to the mark in a brilliant way and are working longer and harder hours to keep our customers supplied with appropriate products.
"The demand has certainly increased to date by about 50%; we have not experienced panic-buying, our customers in general are sensible. They seem to be buying goods in the same manner they would over the Christmas period although we are seeing people we have not seen before."
UNDERSTANDING
Ken, who has been trading for 40 years and whose business is up for sale, said that, 'unlike the major supermarkets, local pet shops have a understanding of their customers.
"I am chairman of our local business partnership…and as such have been requested by Croydon Council to participate in a Covid-19 Business Task Force pulling together a number of business leaders, councillors and council executives. We have had our first telephone conference meeting to discuss immediate issues surrounding communication to all retailers and the mechanisms required to ensure government financial assistance reaches them in a timely manner.
"I shall be making it very clear that the pet sector should be clearly designated as a key workers."