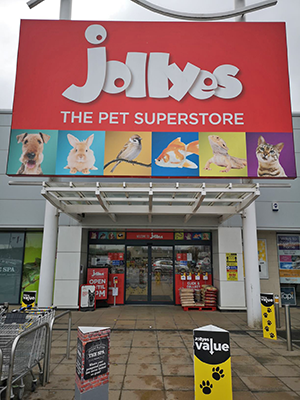 UK Pet owners could save more than £600m a year by buying flea and tick treatments over the counter rather than from the vet, a leading retailer says.
Jollyes is urging new pet owners who bought a dog or cat during lockdown to get ready for the flea season by treating their pets for unwanted pests.
And with costs at vet surgeries being around four times higher than over the counter, animal owners could save money by avoiding this veterinary 'tick tax', the specialist retail chain says.
According to recent industry figures, a surge in pet ownership during lockdown means there are now 12 million cats and 12 million dogs in the UK.
Jollyes says that many new pet owners may not be aware of the dangers from fleas, ticks and worms and should take precautions to protect their pets. Even experienced owners may have missed out on preventative treatment because they have been unable to visit their vet during lockdown.
LOCKDOWN
Jollyes' expert Natasha Wisbey said: "Warmer weather in recent years has made for a more intense flea season so owners need to be on alert now that spring has arrived.
"For dogs in particular, the dangers of picking up fleas, ticks and worms will increase as their owners take them out more as lockdown restrictions ease.
Jollyes has launched a new range of Flea Screen and Worm Screen treatments for dogs and cats. The products have been endorsed by the PDSA animal charity, which will receive a 10p donation for every product sold.
"The disruption caused by lockdown means lots of pets may be going unprotected because they haven't been to the vets, so it's vital for their welfare that owners line up treatment now or it could be a very scratchy spring and summer."
Jollyes' new range of cat and dog treatments includes Flea Screen combo 1 pack and 3 packs as well as worm screen tablets that can be bought over the counter.
Jollyes says it has invested heavily in putting staff through additional training so they are able to offer customers expert free advice on all flea, tick and worming solutions available in store.
The treatments are available in Jollyes' 67 stores across the UK and on its revamped website which has been upgraded after seeing unprecedented demand during lockdown.