Pets at Home has launched a new YouTube series with Clare Balding, called The Pet Care Show.

In the show popular broadcaster and pet lover Clare puts the nation's top pet care questions to Pets at Home's panel of expert vets, groomers and pet care advisors.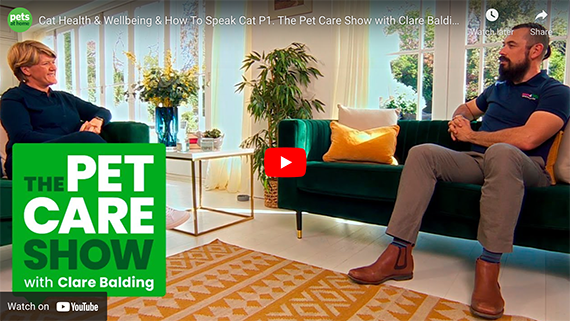 The new series, conceived by The&Partnership and delivered by branded entertainment specialists ITN Productions, consists of 14 advice-filled episodes covering everything from labradors to leopard geckos, giving pet owners the advice they need to have stronger relationships with their pets.
Each episode has been created using search term data, and features the important questions pet owners want answering, from 'how to stop my dog digging' to 'why does my cat slow blink at me'. Pets at Home then uses the same data to serve relevant content to audiences as they search, making sure they're served the right answers quickly and easily.
The series is live on Pets at Home's YouTube channel, which already has 10.2k subscribers. It will be supported by a digital and social media campaign, and comes after a period in which pet ownership is at an all-time high with many new pet owners in need of expert help and support.
The Pet Care Show is part of Pets at Home's wider 'We're Better with Pets' platform which is both a celebration of how pets enrich our lives, as well as a showcase of Pets at Home's family of services.
Karen Williams, marketing director at Pets at Home, said: "We're delighted to be collaborating with Clare on this exciting new series. A big part of our 'We're Better with Pets' brand platform is empowering pet owners and 'The Pet Care Show', with its mix of entertainment and advice, gives owners the tools they need in a fun and accessible way.
"With so many new pet owners, it's important that Pets at Home is there to offer support and advice. This show helps people to give their pets the care they deserve, keep them healthy and happy, while strengthening their bond. Who better to deliver this than the highly trained vets, groomers and pet care advisors at Pets at Home." said Micky Tudor, joint executive creative director, The&Partnership, London.
Mark Thompson, commercial director and head of advertising at ITN Production adds: "The last year has not only seen pet ownership reach an all-time high, the pandemic has meant more people than ever are consuming episodic content digitally at home and branded content has never been more effective at reaching customers.
"Pets at Home understands how passionate we are about caring for our pets, and that traditional advertising wouldn't offer the level of engagement and shareability required.  By combining their ultimate know-how with the world class storytelling and production abilities of ITN and The&Partnership's creative strategy, we are proud to launch a campaign that couldn't be better aligned to Pets at Home's ethos, or more ready to help educate audiences on pet welfare and responsible pet ownership in a fun and engaging way."