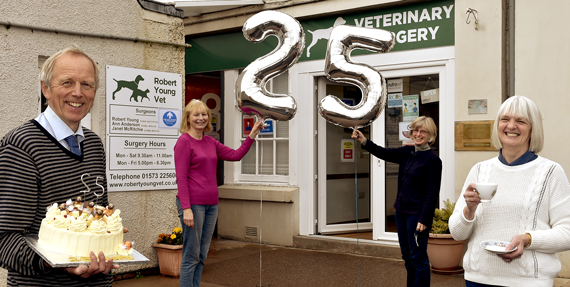 A Scottish veterinary practice has marked its 25th anniversary with a team tea party.
Raising their cups at the celebration at Robert Young Vets in Kelso were vets Robert Young and Ann Anderson, who are also marking their workplace silver anniversary.
Robert founded the practice in 1995 and recruited Ann as his first employee, and together the pair have been familiar faces at the practice, where they have looked after thousands of cats, dogs and other small animals.
During that time, the practice has handled some of the biggest challenges in the veterinary profession, including the introduction of pet passports for cats and dogs, the compulsory microchipping of dogs, a novel disease affecting pet rabbits, gearing up pets to travel to Europe following Brexit and, now, covid-19 restrictions.
Ann is set to retire in January but Robert plans to continue working at the practice, which opened a second branch in Earlston in 2005. Robert Young Vets, which is now part of VetPartners, plans to recruit a new vet next year.