A year ago, as lockdowns were enforced and young people were plunged into the home schooling experience, one VERY young person displayed a real entrepreneurial flair and launched her own business.
One year on it is a thriving local family business – Ayrshire Dog Deli – selling natural, handmade, dog treats and shipping them all over the UK.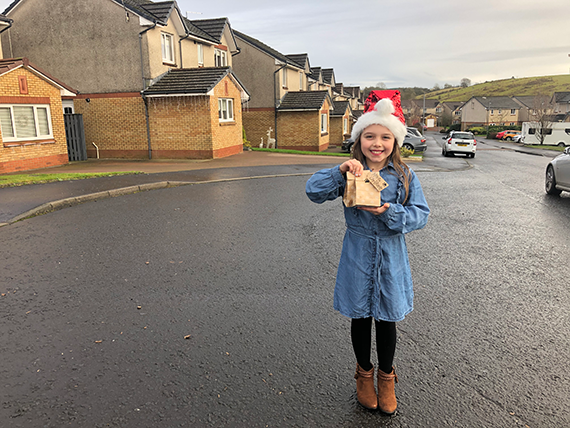 Evie hand-delivering hundreds of festive treats for local dogs at Christmas
Ten-year-old Evie Steel, from Stewarton, found that she ended up with far more time at home with her three-month-old puppy, Dexter, and, after finding a recipe in a magazine, decided to try baking her own dog biscuits. After convincing her mum to give her a hand, they sourced the ingredients and made a batch – he absolutely loved the peanut butter treats so Evie hatched a plan to sell these biscuits to other dog owners.
As luck would have it, the recipe made a few more than she had intended and so there was enough to try selling a few from an honesty box out on the street, with a contactless system set up in a tiny kids' sun tent at the top of the drive. Seeing the opportunity to make some extra pocket money, Evie created branding and packaging for her business, working alongside her dad to brainstorm ideas bring it to life for what was at first called Dexstars.
HONESTY BOX
A couple of social media posts later and local dog walkers were stopping past the honesty box on a weekly basis, with Evie getting up baking to re-stock the honesty box each day!
Seeing the success, a couple of local businesses approached Evie wanting to stock her dog biscuits – Gilmartin's Bakery, The Deli at One, and The Sugar Cube – all based in Stewarton. Evie met them all personally (from a safe two-metre distance of course) to show them her dog biscuits, and they were hugely supportive, waiving any margin for sales, and even involving Evie in choosing where to display the products.
Evie was always determined that it needed to be about more than making money. So, from the very start she wanted to make sure that the business was giving something back and throughout 2020 she used the success of the business to gift her profits to a range of worthy causes including Stewarton Woodlands Action Trust, NHS Charities, Social Bite and East Ayrshire Food Bank.
WILDLIFE
She wanted to try to support something locally, too, and she always saw signs around the town for the Stewarton Woodlands Action Trust (SWAT) ¬ a group of volunteers who work hard to maintain paths, parks, and woodlands for the people and wildlife to enjoy. With restrictions on travel, these local paths had become more important than ever, so Evie met with three of the SWAT volunteers over a cheque and to hear about some of the work her funds were helping.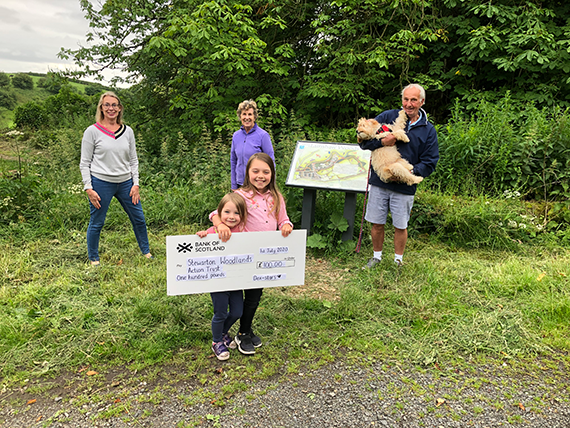 Evie presenting a cheque, with younger sister Lily, to Stewarton Woodlands Action Trust
On returning to school in August, Evie felt that she needed to focus her efforts on her education but continued to be inundated with requests to keep on baking. So, ever the entrepreneur, she created festive-themed treats and took hundreds of orders – and spent a full week furiously baking and hand-delivering them before Christmas.
The success of this finally led Evie to the conclusion that Ayrshire Dog Deli could become a family business, with everyone taking a role.
She said: "We've all worked really hard as a family to create Ayrshire Dog Deli. We've developed new recipes – including Carrot Cake, Blueberry Muffin, and Apple & Cinnamon Crumble – taste-testing them to refine the flavours (Dexter's favourite part), developing new packaging and creating a lovely new website – https://ayrshiredogdeli.com – which launched this month. Deliveries are already flying out the door, with orders from across the UK and treats even shipped to Ireland and France in the first week."
AWARD-WINNING
Her drive to give something back continues, with a new partnership with Give a Dog a Bone – an award-winning charity with a base in Troon that helps the over 60s to afford a rescue pet companion.
Evie said: "Our business was born during lockdown, a time when we have all been apart from family. I have six great-grandparents and I know how lonely they've been at times, so we couldn't think of a better charity to support than one that brings together dogs and those suffering from loneliness."
A donation of 5p from every bag sold will be made to Give a Dog a Bone to help them with their work bringing dogs and lonely people together.
There will be more to come from Evie as she leads this Ayrshire-based family business out of lockdown in 2021.