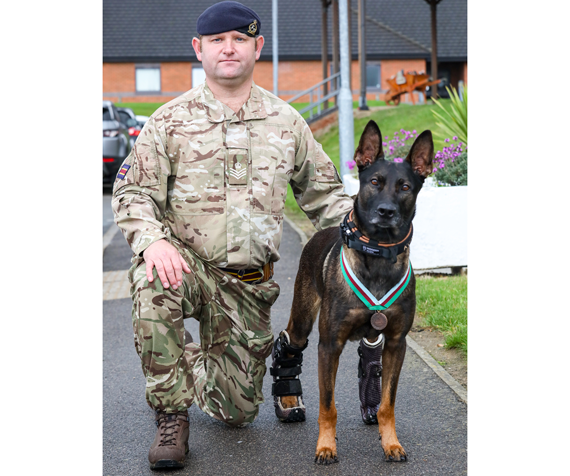 A retired military working dog, who suffered life-changing injuries while supporting British Forces fighting Al Qaeda, has been awarded the PDSA Dickin Medal – the highest award any animal can achieve while serving in combat.
During an operation in 2019, four-year-old Belgian shepherd malinois, Kuno, and his handler were deployed in support of specialist UK and host nation forces on a compound raid against a well-armed and aggressive enemy when they came under attack.
Pinned down by grenade and machine-gun fire from an insurgent, the assault force was unable to move without taking casualties. Kuno charged through a hail of gunfire to tackle the gunman, breaking the deadlock and changing the course of the attack, allowing the mission to be completed successfully.
Kuno was wounded by bullets in both back legs. He was given life-saving treatment by his handler and by medics in the back of a helicopter.
His injuries were so severe he required several operations before he was stable enough to fly back to the UK. Part of one of Kuno's rear paws had to be amputated to prevent life-threatening infection.
But now he is thriving in retirement after becoming the first UK military working dog to be fitted with custom-made prosthetic limbs.
Kuno was presented with his PDSA Dickin Medal – the animal equivalent of the Victoria Cross – via a virtual presentation by the vet charity's director general Jan McLoughlin. He has become the 72nd recipient of the honour.
Jan McLoughlin said: "Kuno is a true hero. His actions that day undoubtedly changed the course of a vital mission, saving multiple lives in the process. And despite serious, life changing injuries, he performed his duty without faltering."