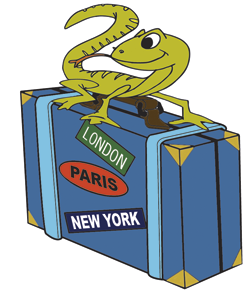 A lizard left behind hot and sunny Greece for South Wales after sneaking into a holidaymaker's suitcase.
The holidaymaker called the RSPCA after discovering the bright green Balkan reptile in her belongings when home in the village of Laleston.
The lizard, around 20cm long (8in), had shed its tail – a common defence mechanism for the species – but was in good condition after the 2,000-mile journey, reported the Sky News.
RSPCA inspector Nic de Celis said: "We're really grateful to the callers who contacted us and safely confined the lizard in their utility room before we came and made the rescue.
"As a stowaway in a suitcase from Kos to Bridgend for many hours, and with temperatures falling from a high of 26 deg C to 15 deg C, this was some ordeal for the reptile.
"Fortunately, this lizard is now at a specialist centre in Pembrokeshire for boarding and care and is doing well. It is anticipated it will now live there,  in safe and appropriate conditions."