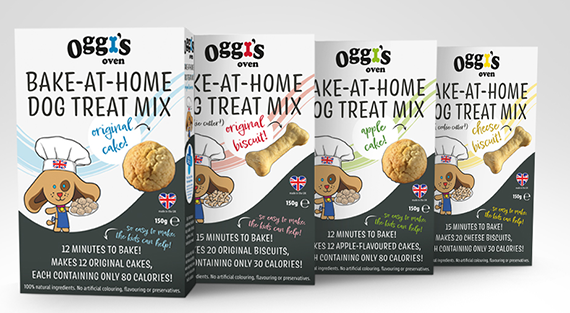 Dog treat brand Oggi's Oven is giving 5% of its sales revenue to the charity Blue Cross to help sick, injured and abandoned pets.
"It really is the perfect solution for animal-loving families who want natural ingredients for their dog," said managing director Sue Hurst.
"Many shop-bought dog treats contain ingredients such as potato starch, which is not the healthiest for dogs and can lead to weight gain, hyperactivity and digestion problems – a bit like giving a child a bag of sweets."
The Oggi's Oven range of biscuits and cakes are 100% natural and can be given to dogs, either as a training treat or simply as a reward in the knowledge that it has no artificial additives, preservatives or flavouring.
With the choice of original flavour or cheese biscuits and apple cake variants, Oggi's Oven is fun and easy to bake, Sue says. Pet owners simply add water to the ingredients, then mix and use the cutter provided for the biscuits.
"Baked in 15 minutes, even the busiest of families has time for Oggi's Oven," said Sue.
The range has recently undergone a packaging rebrand.