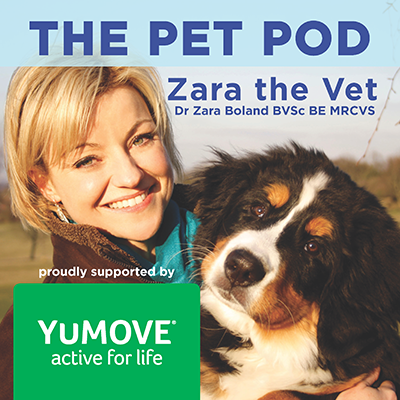 Joint supplement brand YuMOVE has formed a partnership with The Pet Pod – a veterinary podcast for pet owners, presented by vet Dr Zara Boland.
Running for a period of six episodes, with the first episode available to download from yesterday (Tuesday) from all podcast platforms including Acast, itunes and Spotify, The Pet Pod sees Zara joined by a cast of expert guests from the pet and veterinary industry. Following episodes will be available every fortnight.
Each episode revolves around a specific topic, with the goal of empowering pet owners to understand their pets while also sharing tips and tricks to keep them 'happy, healthy and active for life'.
The first episode will cover the topic of animal obesity and will feature weight management expert Dr Alex German, with other episodes looking at arthritis in dogs and cats, supplements, dental health and other topics.
NUTRITIONIST
Zara is a canine nutritionist and founder of The Pet Pod. She has previously presented 'Zara's PetClinic' on 'This Morning' as well as appearing on Channel 4, ITV, Sky TV, and BBC World.
"I'm delighted to have YuMOVE on board as a new partner of The Pet Pod," she said. "As a vet, I'm passionate about giving our pets the best quality of life possible, so it's great to be working with a company whose mission is to enhance the lives of our cats and dogs by helping them to stay active."
Jessica Hyatt, of YuMOVE, added: Our mission is to support all pets to live a happy and healthy life and Zara and The Pet Pod embody these values. By sponsoring the amazing podcast series, we can play an even larger role in keeping pets active for life."
As part of its partnership, YuMOVE will also be offering listeners exclusive offers, discounts and content.