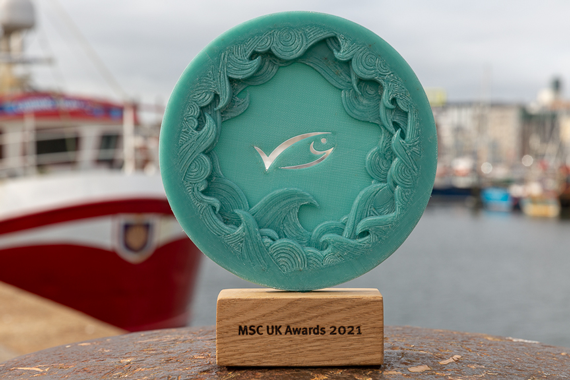 Woofs has been named Pet Food Brand of the Year in the Marine Stewardship Council's annual UK awards, sharing the limelight with household names such as Birds Eye, Waitrose and Sainsbury's.
The pet food award was one of four new categories introduced this year, as animal lovers are increasingly choosing seafood options that are good for their pets and the ocean, too.
The annual awards, now in their eighth year, were streamed for a second year running from the National Marine Aquarium, Plymouth last night (October 7).
Stewart Irvine, co-founder of Woofs said: "I'd like to thank MSC for this prestigious award. Several people within our organisation have worked tirelessly on promoting the values of sustainability and receiving this accolade is justification for their efforts.
OCEANS
"I look forward to working closely with MSC in the future as we endeavour to protect the valuable resources of our oceans."
MSC UK ambassador, acclaimed restaurateur, chef and author Mitch Tonks was on the expert judging panel along with CJ Jackson, chief executive of Billingsgate Seafood School; Marcus Coleman, chief executive of Seafish; and Dr Eleanor Adamson, fisheries programme manager at the Fishmongers' Company.
Welcoming everyone to the awards, Seth McCurry, MSC UK & Ireland senior commercial manager, said: "In spite of another challenging year, the UK retail industry has demonstrated strong continued commitment to sourcing sustainable seafood.
"Our MSC UK Awards are a great opportunity to celebrate outstanding achievement and performance in sustainable fishing and seafood across the entire UK business spectrum.
"With new categories introduced this year, I am pleased that we are able to recognise the range of contributions brands and retailers are making to ensure we have fish for future generations to come."