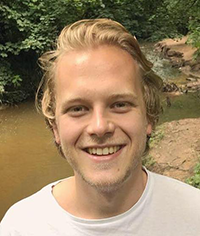 The Ornamental Aquatics Trade Association has welcomed Matthew Hill as its new scientific support officer.
Matthew joins from the University of Portsmouth where he was a research associate working on trade data analysis.
In his new role he will support OATA's scientific and technical advisor with analysis, research and evaluation on a diverse portfolio of issues, including a review of current advice and guidance, identifying and researching knowledge gaps and building OATA's scientific evidence base.
Matthew gained a first class honours degree in marine biology at Portsmouth University before completing a Masters in ecology and conservation at Brighton University.
SCIENTIFIC
OATA chief executive Dominic Whitmee said: "Our sector is facing increasing pressures from the animal rights lobby so Matthew joins us at just the right time. There are a lot of issues that will keep Matthew busy so his scientific and analytical skills will be a valuable asset to the team and I very much look forward to working with him."
Matthew added: "The aquarium trade has been my main focus for the majority of my life and I'm really excited to start working with OATA. It is a brilliant opportunity for me to combine my passion for aquatics and my previous research experience to help try and solve real-world issues for the trade and give the best possible advice to hobbyists."
In his spare time Matthew is currently breeding clownfish.
Both Dr Matthew Bond, OATA's scientific and technical advisor, who joined the team last October, and Matthew will be attending AQUA2021 in Telford from October 13.