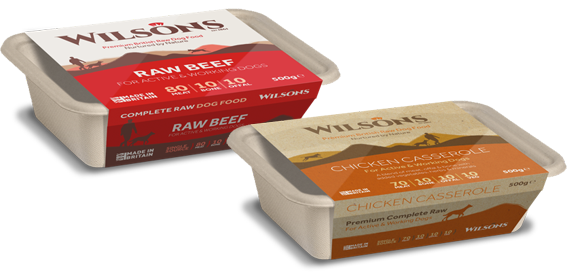 After the launch of its Raw Frozen dog food last year, Wilsons Pet Food has released its new Eco packaging, both in its current Premium Complete Raw Frozen range and in its new core range of 80/10/10 raw frozen dog food.
Having produced pet food for more than 150 years, Wilsons currently offers a range of cold pressed and raw frozen dog food, which is made and pressed in its purpose-built factories in Scotland, along with its recent addition of 'healthy' dog treats.
After customer feedback and aiming to reduce its environmental impact, Wilsons has been working to move away from their original pouches to biodegradable trays and recyclable cardboard sleeves to help target no plastic by the end of 2020, along with plans for its dry Cold Pressed dog food to follow soon.
It has also added a core range of 80/10/10 raw frozen dog food in a variety of four different flavours. Like the premium complete range, the ingredients for the new raw range is sourced from the UK and produced in the company's Scottish factory.
Head of sales Dan Griffin said: "We are one of the first brands to offer raw pet food in biodegradable trays, which are 'guilt free' and easy to use, plus being paired with using local British ingredients it's ticking every box we could have hoped for. I am also very excited to add a core range of 80/10/10 for the experienced or DIY feeder."
The new range of Eco packaging is available from this week.