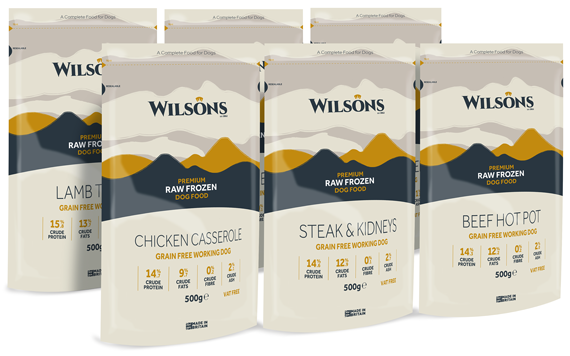 Perthshire-based Wilsons Pet Food is looking back over a 'phenomonally successful' PATS Telford last month, where it launched its new Raw Frozen range.
The company, which can trace its heritage back well over 150 years, was nominated for Product of the Year in the PetQuip awards with its Cold Press range – and picked up 15 new stockists, making more than 100 stockists in Wales, Scotland and England.
Wilsons Raw Frozen Range is available in choice of standard varieties: Beef Hotpot, Salmon Medley, Pork Casserole, Lamb Tagine, Chicken and Vegetables and Turkey Dinner.
Additional recipes will be added throughout the year to reflect the Scottish seasonal produce with key ingredients such as venison and pheasant.
Wilsons Raw Frozen recipes can be fed as a standalone diet but they have also been designed to complement Wilsons Cold Press Range and are suitable for dogs that like a mixture of wet and dry food.
Wilsons Raw Frozen Range comes in 500g resealable pouches. Branded freezer deals are available on the Raw Frozen Range.