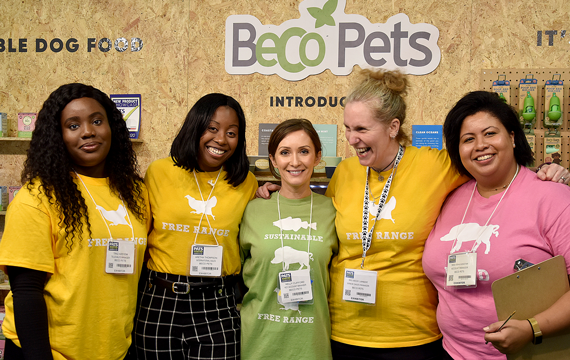 The Beco Pets team reported a busy day on their stand
Pet retailers made it through the gale-force winds and torrential rain of Storm Ciara to get to the PATS Sandown spring show on Sunday.
Flooding, travel disruption and power cuts across the UK caused some initial concern about visitor numbers but these soon proved to be unfounded.
Carina Evans, of Podium Pet Supplies, said: "If people needed proof that PATS Sandown is a not-to-be-missed event in the pet industry, then they got it on the opening day. Retailers showed real British Bulldog spirit to make it here and ensure the show's success."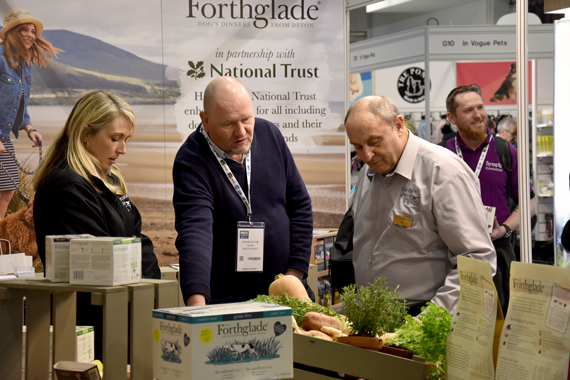 It is the second year the event has taken place on a Sunday and Monday in February. Despite the unusual weather conditions both exhibitors and visitors remained positive about the first day.
First-time exhibitor, Craig Ewing, Director of Natural Dog Food Direct, said: "There have been times when we've been mobbed and there are six of us on the stand, so that's saying something, especially with it being 'big coat' weather outside. We're looking forward to whatever tomorrow brings."
We.pet is an independent pet wholesaler launching at the show and director Robert Frost was delighted with the response from visitors. "We've had some very positive feedback and generated some quality leads," he said.
Ben Dodd, of Adios Plastic, was also launching at the show. He said: "This is my first time at PATS so I didn't come with any expectations, but it's been great. I've been able to meet up with people I spoke to before the launch, and they've come here now to place orders. The networking has been excellent."
Visiting retailers also enjoyed the first day of the show.
And Diane Snell, who is setting up a pet retail boutique and dog grooming parlour in Dartford, Kent, commented: "I was determined to come despite the weather because this show is perfect for sourcing new products and ideas."
Andy Sheppard, of Rangebourne Pet Care, Devizes, Wiltshire, said: "I have attended every PATS Sandown and I wouldn't miss it. I love the venue and I love the show, and the bad weather wouldn't put me off coming. It has everything I need all under one roof. It's just brilliant."