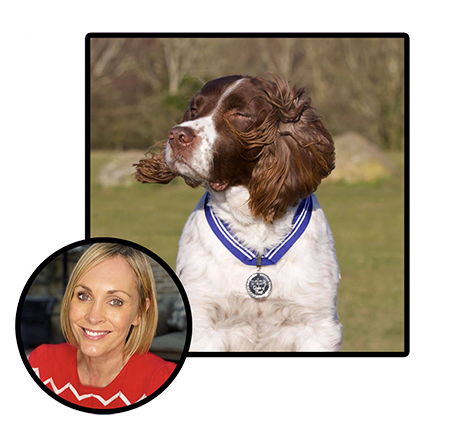 Pooch & Mutt has teamed up with radio and TV presenter Jenni Falconer to help raise awareness of the mental health benefits of owning a dog.
The UK pet food brand launched its 'Good Mood Food' campaign with a video of Jenni interviewing Kerry Irving, owner of 'miracle dog' Max, about the highs and lows experienced during covid-19 lockdowns.
"Lockdown changed everything for everyone," said Jenni. "It has been challenging, and it brought a whole new way of life. I worked from home for about three months and my dog Alfie loved it, he was by my side the whole time."
Kerry explained that after two years of depression and serious thoughts of ending it all, a chance meeting with Max was the first stepping-stone in his road to recovery.
He said: "The small steps are key because you can't cure depression overnight, it doesn't go away, and for me, it was Max, because it literally changed my focus from self-devastation to wanting to see him again. That was the kick-starter, to actually have a dog that showed interest in me when I thought the whole world was losing me."
Max was awarded the PDSA Order of Merit and taken on as a Pooch & Mutt. Over the past year his adventures with spaniel brothers Harry and Paddy have been shared on social media.
Pooch & Mutt's 'Good Mood Food' campaign is aimed at ensuring dog owners pay attention to their pet's mental wellbeing.
Guy Blaskey, founder of Pooch & Mutt, said: "Today, pet owners care more and more about their dog's mood and behaviour, and by feeding a healthy diet that is tailored to their needs and helps them to feel great both physically and mentally, owners can rest assured knowing that they are helping their dog to live their best life."