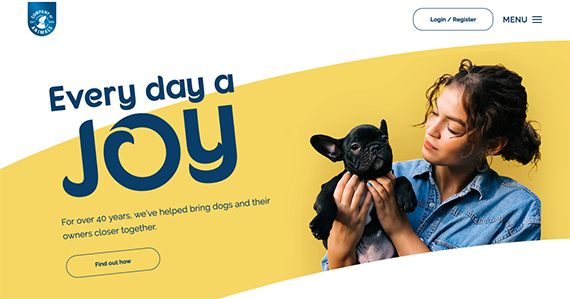 Dr Roger Mugford and his team at The Company of Animals have introduced a new global website – www.companyofanimals.com
The one-stop destination for award-winning products, dog training tools and pet parenthood advice offers consumers an interactive hub, designed to help bring dogs and their owners closer together.
The Company of Animals says it has been supporting 'pet parents' all over the world for more than 40 years and that the new website is the result of recent extensive research into how the relationship between pets and people has evolved and what this means for their learning and development.
"Having experienced a significant rise in traffic during the 2020 lockdown, in response to 'the new normal' and to further the online support available, the new platform features a quick and easy 'Ask the Experts' function," a spokesman explained.
The newly-launched website features optimised content across the range and new images of the products in action submitted by fans the world over. An FAQ page offers consumers all they need to know about products, customer services, retailers and more.
Created and developed to offer advice and training solutions for every pet owner, the website translates The Company of Animals' expertise into a simple user experience.
"Innovation, comfort and pet happiness is at the heart of the company's culture and the team are committed to supporting their consumers through these uncertain times and enjoy wonderful, healthy relationships with their pets."