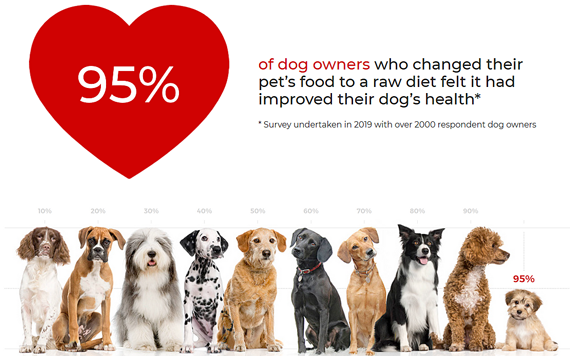 The vast majority of dog owners who changed their pet's food to a raw diet felt it had improved their dog's health, according to the results of a survey by Nutriment.
The award-winning raw pet food company says its 2019 consumer survey is designed to provide an unbiased insight into the dog food landscape as it stands today (both raw and non-raw). The research delved into consumer perspectives on dog food, nutrition and health.
The survey, which launched in February of this year and is still open for submissions, was promoted at Crufts in March and has attracted more than 2,000 responses from owners across the UK and Ireland.
Nutriment says it consistently strives to be responsive and proactive to consumer demands and requirements so invited both consumers who raw feed and those who choose not to to submit their views and experiences of their pet's health and feeding. The Surrey-based company plans to use this knowledge in the development of further raw feeding products and solutions.
HEALTH
Of the dog owners surveyed, 95% who changed their pet's food to a raw diet felt it had improved their dog's health. Further to this, 48% felt that a diet change was effective in treating their dog's health condition, compared with just 14% for vet prescriptions and 14% for homeopathic/holistic remedies.
The survey also produced feedback on common health complaints for dogs and raw feeding as a solution. For example, 34% of the dog owners surveyed reported diarrhoea and 28% reported itchy skin as common health conditions for their dogs, with 85% and 84% feeling that a raw diet helped to treat diarrhoea and itchy skin respectively. The results can be viewed at www.community.nutriment.co.uk/results/
"Our recent survey has been a fantastic opportunity to publicise the benefits and advantages of raw feeding, which has received unsubstantiated criticism from unreliable sources in the past," said Suzanne Brock, managing director of Nutriment.
"With a lack of research into raw feeding, and a tendency for pet food companies to pay for research that suits them, this survey was our way of finding evidence to support the benefits of raw feeding – though we had no knowledge of what the outcome would be.
PORTFOLIO
Nutriment's portfolio of raw food includes Core, Just, Dinner for Cats & Dinner for Dogs and Laverstoke Park Farm.
Suzanne said: "We recently announced that we have expanded our production facility at Laverstoke Park Farm, in Hampshire, which was necessary to facilitate the increasing demand that we are receiving for our raw food products.
"With the feedback we have received from our survey and the chatter that raw feeding continues to generate in the industry, it's no surprise that dog owners worldwide are making the informed decision to switch their dogs' diets to raw, biologically appropriate ones."
Nutriment will be exhibiting at PATS Telford and has entered the PetQuip Awards.