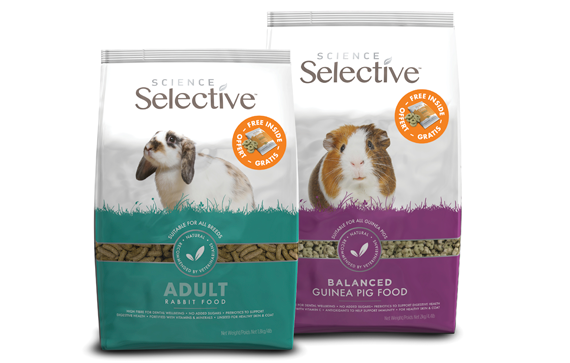 Supreme Petfoods is launching a new 'value-add' promotion in line with its programme of support for pet specialist retailers.
From August through to October, Science Selective Rabbit and Guinea Pig packs (1.5-2kg) will include a sample pack of award-winning Selective Naturals Meadow Loops. "Retailers can expect to benefit from an uplift in sales of Science Selective and look forward to increased treat sales from the Naturals range post-trial," said Supreme's marketing Manager, Claire Hamblion.
Selective Naturals has experienced a 320% increase in the three years since launch, scooping awards in both the UK and the US.
"The treats are both healthy and highly palatable, meaning that conversion from trial to purchase should be high and ensuring retailers really notice the benefits to their bottom line both before and after purchase," said Claire.
FANTASTIC
"We wanted to reward retailers for all their fantastic support – from nominating us for awards as their favourite small pet product supplier to helping Naturals become such a success. Helping to build bigger baskets is key to success in the pet trade. This offer should help them drive sales and loyalty in their customer base and reinforce the benefits of shopping with a specialist."
Selective Naturals Meadow Loops is suitable for rabbits, guinea pigs, chinchillas and degus. Both Science Selective and Selective Naturals come from the same high-fibre, no-added-sugar stable, with no artificial additives.
This year Supreme has added two new treat varieties to the Selective Naturals range with Country Loops and Harvest Loops.
Claire said the offer packs were expected to be in strong demand during the promotional period so retailers are encouraged to put their order through soon to secure their stock.