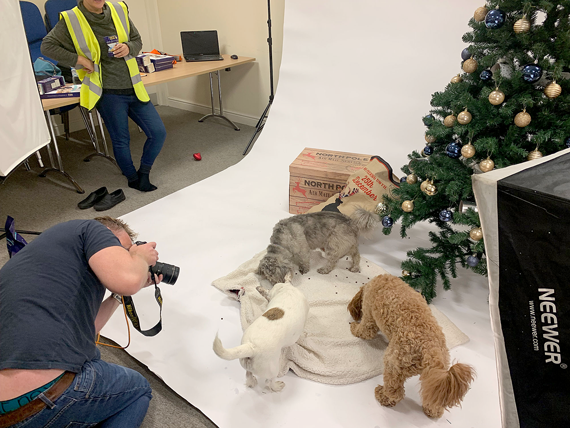 Last week, as Fish4Dogs launched its 2019 Advent Calendars and Christmas Crackers on its website and in independent pet shops around the country, four new canine colleagues took their paw-sitions in front of the lens of Andy Coxsell, from SAM Photography.
Fish4Dogs, based at Droitwich in the Midlands, encourages its staff to bring their dogs to work, not just for the companionship and wellbeing of everyone who works there (including the dogs themselves) – but also as willing 'campaign stars' and product testers.
Andy said: "We've been working with Fish4Dogs for a couple of years now and really enjoy the challenge of working with great dogs. We make it fun and relaxed, with lots of Fish4Dogs treats playing their part and as the dogs are in the office, which is familiar to them, we usually get some great shots – and some classic misses, too.
"It's just about patience, keeping the camera clicking and enjoying the novelty of working with some great characters, who aren't camera shy, but also aren't professional canine models either."
The four new stars have all been re-homed by Fish4Dogs staff and are new arrivals at the dog-friendly office. They are Riley, Patrick, Fliss and Pixie.
Punam Patel, from the Digital Team, who helped arrange the session, added: "We've had some lovely new dogs join our family this year and it was the first time for most of them in front of the camera. They were so good, definitely enjoyed the attention and we've ended up with more than a hundred unique photographs that we'll put to good use throughout our campaign."