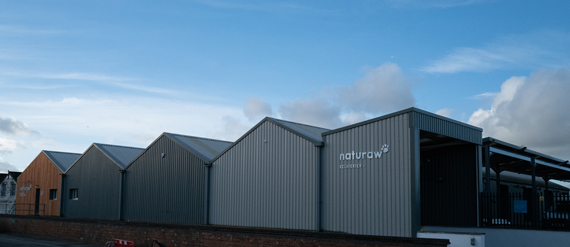 Naturaw has signed a 10-year lease on the new 17,500 sq ft headquarters and production kitchen
A fast-growing producer of raw dog food has expanded into a major new headquarters and production kitchen at Thorp Arch Estate, near Wetherby, in Yorkshire, as part of a six-figure investment after outgrowing its previous premises twice in six years.
Naturaw has signed a 10-year lease on the 17,500 sq ft production and distribution centre, which includes 2,000 sq ft of office space.
Founded in 2015 by Jess Warneken and Tom Johnson, Naturaw started life in Tockwith at Marston Moor Business Park before expanding to 6,000 sq ft premises at Hessay Industrial Estate near York two years later. The company has doubled in size in each of the last two years and now employs a 15-strong team with plans to recruit at least three new people this year.
Naturaw's fresh, natural and raw dog foods and treats all use 'high welfare' meats without any processed or filler ingredients. All products are packed by hand in biodegradable packaging and are they now sold by more than 100 retailers throughout the UK, as well as being supplied directly to thousands of dog owners through the company's website.
As part of the relocation to Thorp Arch Estate, the company secured a grant from the Leeds City Region Enterprise Partnership's European Regional Development Fund to invest in its new industrial-scale kitchen, as well as creating new jobs.
THRIVE
Chris Broadbent, director at Naturaw, said: "Dogs thrive when they eat fresh, natural, raw food and our products, which all use high-quality ingredients in biodegradable packaging without any plastic, have become hugely popular with both dogs and their owners.
"This move will give us a fantastic new base as we embark on our next phase of expansion. Our new state-of-the-art production kitchen will enable us to increase production, while crucially maintaining the high level of quality that has been key to our success. It also means we can quadruple our storage capacity and further enhance the fast delivery times that our customers enjoy, which all combines to make it a really exciting time for Naturaw."
Paul Mack, director at property consultant Gent Visick, which advised the manufacturer on the relocation and lease, said: "Naturaw's organic and rapid growth since its inception has been due to the company identifying and capitalising on a niche area in the pet food market. The company has experienced tremendous success to date, so it has been a genuine privilege to guide the team through this expansion.
"The move to new and larger premises is an ambitious step forward, which will provide the ideal platform for the company to continue to go from strength to strength."
Tim Munns, director of Wharfedale Property Management, which manages Thorp Arch Estate, added: "Naturaw is quickly becoming a market leader in the raw dog food market and is a successful and ambitious Yorkshire-based business…"