Pets Choice has launched seven new product developments and has rebranded its Webbox Naturals range.
The Lancashire-based company says the range has undergone a full rebrand with aim of making it 'feel fresh, fun and modern, helping it to boldly stand out on shelves, in a predominantly beige category'.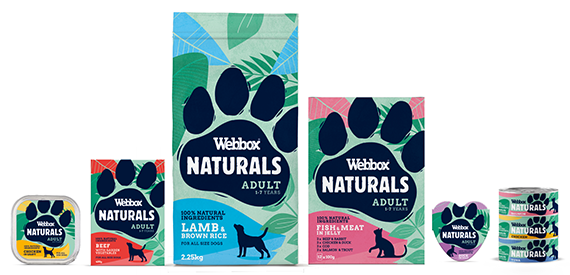 Featuring bright colours and new designs, the packaging includes 'call-outs' that shoppers look for as a key priority, such as 'gentle on tummies'. Additionally, the brightly-coloured range was designed after detailed semiotic research, which looked at subliminal cues for shoppers.
Research into 'humanisation' trends found that pack claims that mimic human diet trends such as grain-free, sugar-free, all-natural ingredients, ingredient provenance, and number of ingredients, have surged in popularity in recent years.
Alongside the rebrand launch, the premium cat and dog food brand has introduced a selection of new formats and flavours in response to new pet food diet trends and preferences.
Webbox Naturals' Dry Cat will now be available in a 700g pack size, and the recipe includes added wholegrains for slow release energy, as well as 30% more chicken than the previous recipe. The range now includes Chicken with Duck and Wholegrains as well as Chicken with Salmon and Wholegrains.
EXPANDED
The range of Webbox Naturals 400g wet dog trays has been expanded, with new recipes including Chicken with Sweet Potato, Green Beans and Red Pepper, Beef and Chicken with Potato, Swede and Carrot and Lamb and Chicken with Sweet Potato, Peas and Mint.
All new recipes contain 65% meat as a minimum and have been designed in response to market research that found that shoppers were increasingly looking to buy pet food that appeals to them, too.
And independent feeding trials instructed by the business revealed a huge preference for its new recipes.
Webbox is also launching Puppy and Senior offerings within its 150g Pate range following its research, which showed that specialist food for different lifestages was important to consumers, with dog senior and cat senior growing at 9% and 7% respectively year on year.
GROWTH
Webbox believes that not only is this the result of better message communication from manufacturers and a continuation of the humanisation trend, but that the popularity of smaller dogs – who are 'senior' for longer – may also be fueling this subsector growth.
Senior brand manager Camille Ashforth said: "We're always looking for ways to improve our products. In order to do this, we make sure we understand exactly what our customers and their pets are looking for, whether that be a fresh design, tasty new recipes or high-quality, nutritious ingredients.
"As a business with over 135 years' experience, we want to be at the forefront of industry developments and research by continuing to invest in innovative high-quality pet products that appeal to a broad range of customers, whatever their budget.
"As well as our new product developments, we're looking forward to shaking up the naturals category with our new rebrand."