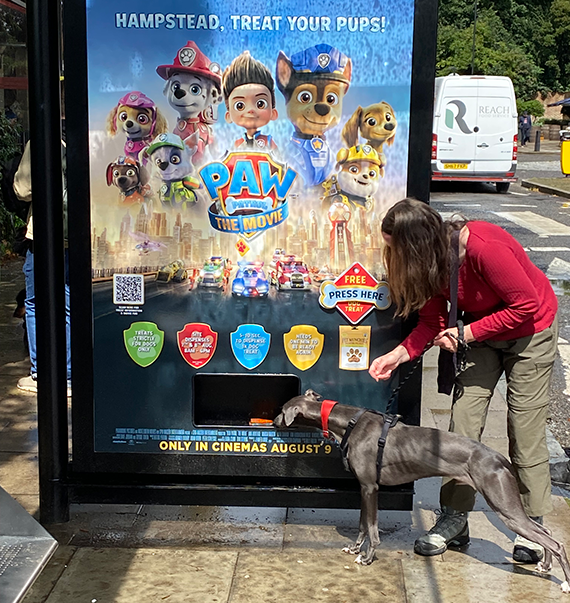 The team from Pet Munchies attended the premiere of PAW Patrol The Movie in London after the company provided treats for the film's promotional campaign.
Pet Munchies was asked to supply a quantity of its Chicken Training Treats for a PAW Patrol bus stop vending machine campaign.
Dog lovers got the chance to obtain a free 50g pack of the treats at the Kentish Town bus shelter in Hampstead, London, on August 7-8.
Suzanne Rothman, founder and owner of Pet Munchies, said: "We were really excited and honoured to have been chosen to be a part of the promotional campaign of this eagerly-awaited film and it was lovely to be invited to its premiere in London.
"All of the Pet Munchies team had a great time and enjoyed the movie. We also paid a visit to the bus shelter where Pet Munchies treats were being dispensed to grateful dog owners."
PAW Patrol is a computer-animated children's television series following the adventures of a tech-savvy boy named Ryder and his team of crime-fighting puppies. PAW Patrol The Movie is expected to be a big hit as families return to cinemas this autumn.
It has been a really successful period for Pet Munchies, which recently picked up two product awards. The company received an award for the Best Gourmet Pet Treat Product Range (UK) in the Lux Life Pet Products and Services Awards 2021, and also won Product Innovation of the Year in the Retailer Recommended Awards 2021 for its Wild Salmon Training Treats.
The Pet Munchies Chicken Training Treats given away in the campaign for PAW Patrol The Movie are made with 100% natural quality real human grade chicken breast meat.