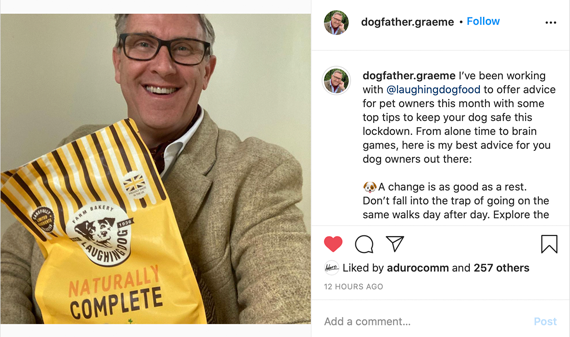 Natural dog food company Laughing Dog has been working with 'The Dogfather' to provide pet owners with guidance as lockdown begins to ease.
Graeme Hall, aka The Dogfather, is a Master Dog Trainer with the Guild of Dog Trainers and has been described by The Telegraph as 'Britain's best dog trainer'. He is also presenter of hit Channel 5 show 'Dogs Behaving (Very) Badly'.
Working with Laughing Dog, Graeme offers eight key tips covering exercise, food and mental wellbeing, adding: "A change is as good as a rest. Don't fall into the trap of going on the same walks day after day. Explore the area and you're sure to find new places to keep you and your dog interested.
"If you're called to self-isolate and can't get someone else to walk your dog, tire your dog out with puzzles and brain games instead. It's not the same as a walk, but it's not for long and it keeps your dog happy and everyone safe."
Throughout lockdown, Laughing Dog has been providing activities and advice for pet parents. The publication of these new tips is aimed at helping to keep restriction changes as stress-free as possible.
From ideas to help pet parents ease the transition back to work, to tips for staying safe on dog walks and ideas to keep your dog entertained to help combat loneliness, Graeme's tips can be found at www.laughingdogfood.com and across all of the brand's social media channels.