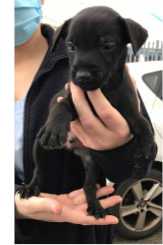 A charity survey has revealed that 12% of UK adults are considering buying a puppy for Christmas this year.
The RSPCA is warning prospective buyers to watch out for Christmas cons amid concerns that a record number of dogs could be imported to meet the increased demand. Experts are worried that breeders and sellers trying to cash-in on the rush may be failing to take good care of their dogs.
RSPCA chief executive Chris Sherwood said: "Every year we see a spike in online searches and adverts for puppies in the run-up to Christmas. With lockdown continuing to drive up demand for dogs, we expect this year could see more families looking for puppies than ever before.
"While some of these families will take on loving rescue dogs or buy happy, healthy puppies from responsible breeders, we know many will unknowingly fall victim to illicit and underground puppy breeders and sellers who prioritise profit over the health and welfare of their dogs."
It comes as the RSPCA revealed it had received 575 reports relating to the puppy trade in England and Wales during lockdown (23 March – 31 October 2020).
One recent example was an alert to imported puppies being sold from the back of a van at a motorway service station in Surrey.
In fact puppy imports have soared, with Government figures showing that the numbers of licences issued for the commercial import of dogs rose 87% from 14,075 (May-September 2019) to 26,4461 for the same period this year.
Of 2,173 UK adults surveyed by Savanta ComRes on behalf of the RSPCA, 38% said they owned a dog and, of those, a quarter (24%) got their dog since the start of lockdown.
But 23% of respondents said they would be interested in buying a new puppy or dog in the next six months and 12% said they're likely to buy a new puppy or dog for Christmas.