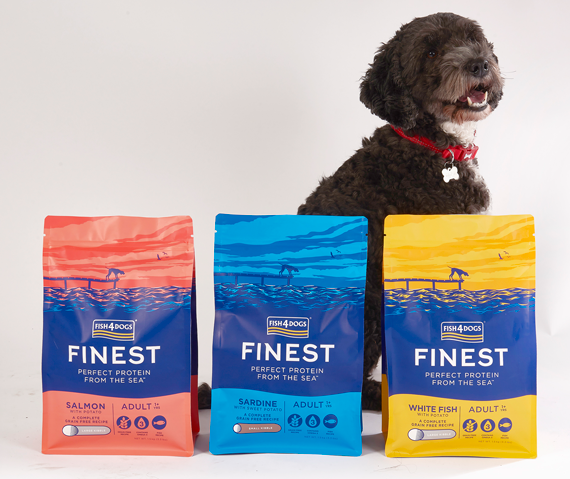 Fish4Dogs has kicked off the new year with a new look to celebrate its 'Pioneers of Fish' credentials and make its extensive range easier to navigate for customers around the globe.
The Finest Complete range will be the first to undergo the transformation – featuring consistent and colour-coded packaging – as part of a wider refresh to be phased in over coming months.
The Midlands company worked with award-winning creative agency WPA Pinfold to create the new look, which has been two years in development, informed by research and testing at every stage of the process.
It aims to better showcase the Fish4Dogs range, which has grown extensively since the company was founded 12 years ago, and aims to convey the benefits of fish as 'the perfect protein' to customers and retailers alike.
The design features three dogs at various life-stages. sitting on a jetty overlooking the sea with key colours used to identify various Finest recipes.
INTERNATIONAL
Some products are being renamed to simplify the range for international markets. For example, Finest Cornish Sardine, will become, simply, Finest Sardine. The products themselves will still use the same ethically-sourced stock – premium human grade fish. In response to customer feedback, the Sardine recipe will now also be available in a 12kg bag.
The packaging will include iconography to convey key nutritional benefits and feeding guidelines have been reviewed.
A key driver for the project was to ensure that the 'packaging design would be as good as the product inside', said Fish4Dogs' head of harketing, Jo Mulgrew.
"Our brand refresh has been an extensive project, requiring us to look closely across our ranges and consider their best fit in order to make our branding consistent and easier to understand," she said. "Innovation has led to the introduction of many products over the years but creation of new lines meant that the brand framework was becoming a little too stretched.
DELIGHTED
"Fish4Dogs' growth, particularly in respect of international markets, has meant that we had arrived at a natural stopping-off point to review our brand and plan for the future, to ensure that it is in the best suited for the journey ahead."
Graham Smith, CEO of Fish4Dogs, said that he was delighted by the outcome
"This project has been all-encompassing and included rigorous testing and trials from design concepts and packaging to stacking, transportation and display," he said.
"Every step of the way, we have considered how the brand would be applied now and in the future and have arrived at a solution that incorporates the company's heritage and values while putting customers at its heart."