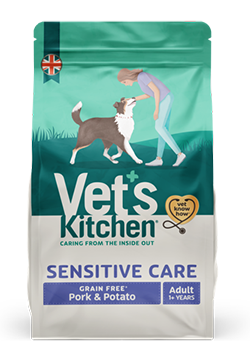 Pet food brand Vet's Kitchen is moving to 100% recyclable packaging in an effort to reduce its carbon footprint. The changes will be made over a two-year period and will cover the entire product range, beginning with dry dog food in October 2020.
The Vet's Kitchen brand, which says it is dedicated to transforming the health of the nation's pets through diet and nutrition, has decided to make meeting its environmental goals a priority.
To date, it has reduced its plastic use by over a quarter (27%) on some lines and 17% across the range. Steps such as replacing cartons with shrink-wrap on dry dog food and introducing recyclable, white trays on the wet dog food range have already been put in place.
The move comes as part of a re-branding strategy, as Vet's Kitchen upgrades both its packaging and website design, as well introducing a number of new recipes and pack formats.
It is hoped that by actively displaying the OPRL (on-package recycling label) it will prompt customers to dispose of packaging responsibly through recycling.
Head of marketing, Jilly Whibberley, said: "The Vet's Kitchen brand is synonymous with high quality pet food that delivers real health benefits. We take great care to select the best possible ingredients with an emphasis on natural, nutritious foods that delivers real health benefits and a move to a greener packaging solution was an integral part of our rebrand strategy."
Vet's Kitchen believes that nutrition is fundamentally linked to health and wellbeing and that the lives of the nation's pets could be improved through diet.
It even has its own in-house veterinary practice based in Swindon, known as Vet Klinic.
Its natural products are produced using this 'Vet Know-How' and are specifically tailored to meet the dietary needs of cats and dogs, including treating many of the common ailments faced by pets.