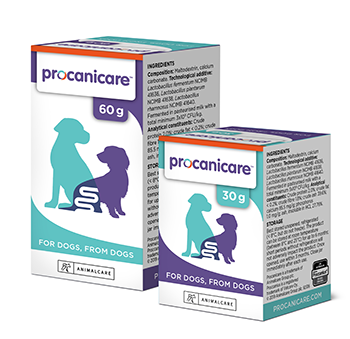 The first 'for dogs, from dogs' healthy digestive supplement in the UK will launch from the online veterinary pharmacy and pet supplies site The PharmPet Co in September.
Procanicare, from Animalcare, is the first bacterial GI support product to be developed from the intestinal bacteria of healthy dogs, delivering three live strains of canine specific Lactobacillus bacteria to support gut health, digestion and overall well being.
In scientific studies, Lactobacillus bacteria in Procanicare were proven to improve stool consistency in dogs, enhance wellbeing and reduce 'bad' bacteria while helping a dog's own good bacteria to grow.
Phil Younger, co-founder of The PharmPet Co, said: "We're pleased to be partnering with the Procanicare brand as we continue to build and diversify our offering to pet owners in the UK. We're a relatively new business so it's great to be the first online supplier of such an innovative and effective range for dogs.
"Maintaining a healthy gut is an essential part of supporting dogs and their general well being. One in two dogs has needed to have their diets changed during covid, so it's important that they are receiving effective supplements to ensure they remain comfortable and healthy.
"As lockdown has eased across the UK, people are beginning to spend more and more time away from home after a long period of time spent with our dogs at home. Post-lockdown separation anxiety will impact many of our pets, and healthy digestion supplements can go a long way to support our dogs and their wellbeing during difficult times."
The three live strains of Lactobacillus found in Procanicare were carefully selected after a series of studies isolated the most appropriate species for commercial use from the intestinal microbiome of healthy dogs.
Dr Shea Beasley, product development manager at Vetcare Ltd, was involved in the development of Procanicare and has seen its success in other countries. Dr Beasley said: "The strains of Lactobacillus found in Procanicare have been commercially available in Scandinavia for two years now. It has achieved great success, with Scandinavian vets frequently recommending it in situations where the gastrointestinal microbiota can become unstable. This can include following antibiotic use and in stressful situations such as travelling and kennelling, as well as when supporting the intestinal microbiome is particularly important, such as during pregnancy and lactation."
The PharmPet Co launched in April 2020 in the midst of lockdown in the UK and it has continued to supply pet owners with essential prescription medication, toys and treats throughout.