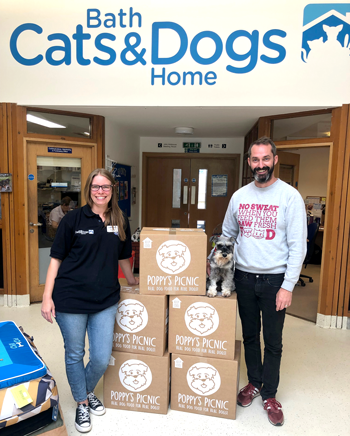 Wiltshire-based raw pet food company, Poppy's Picnic has given 1,157 meals to Bath Dogs and Cats Home in acknowledgement of the work the charity does to rescue, rehabilitate and rehome animals.
Poppy's Picnic and its staff, some of whom have previously volunteered, are keen supporters of local animal rescues such as the Bath home, which saves more than 1,100 animals each year, including 500 dogs.
Founder of Poppy's Picnic Dylan Watkins said: "It's heartbreaking knowing these rescues have experienced neglect and we are thrilled to be able to provide them with nutritious food and support the fantastic work and love that the amazing staff at Bath Dogs and Cats Home show to our four-legged friends."
CRUELTY
Rachel Jones, head of fundraising at Bath Cats and Dogs Home, said: "We work tirelessly to rehome rescues and rely heavily on charitable donations to improve the lives of dogs that have experienced cruelty, abandonment and mistreatment. We're incredibly grateful for the generous donation of delicious food which will fill over 1,000 dog bowls of these dogs in need."
This donation of the packs of Mince and Meatballs follows gifts to other charitable organisations, both human and canine, such as the British Heart Foundation; eating disorder charity SEED; Pawprints to Freedom Rescue, a not-for-profit charity for Romanian rescue dogs; and Dogs For Good, which supports people with a range of needs including physical disabilities, autism and dementia.